Montreal rewind: Robert Johnson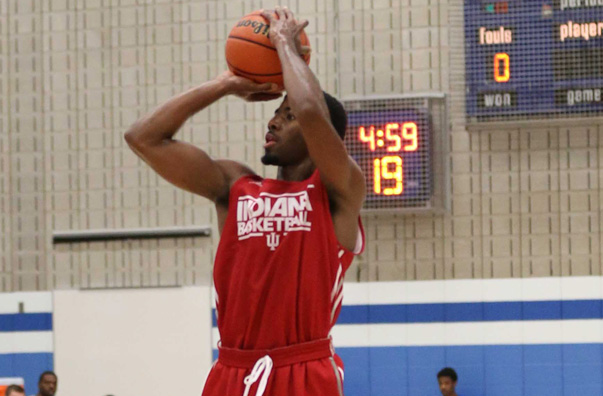 Welcome to "Montreal rewind," our player-by-player recap from Indiana's five-game tour of Canada. Today: Robert Johnson. Previously: Nick Zeisloft, Devin Davis, Troy Williams, Yogi Ferrell.
After Robert Johnson went 0-of-6 in Indiana's fourth game on its tour of Canada against McGill University, Tom Crean was surprised to learn that his freshman guard didn't register a point in the contest.
From Crean's perspective, the Richmond (Va.) native had a positive overall impact on the game, so the scoring void didn't stick out when he had a chance to take a closer look at the statsheet.
"You know what's funny, I don't know who brought it up yesterday, but I hadn't read the stat sheet when we talked," Crean said after IU's fifth and final game against UQAM. "I didn't have any clue that he didn't even score a point. I told him that's the good news and the bad news.
"The good news is it didn't affect him in my mind because we were asking him to do so many different things inside of the game. At the same time, he knew when we talked that he wasn't as aggressive as he could be in looking for shots, in getting to the rim, in getting to the foul line. But, his seven boards, those things were good. I thought it was a great sign of somebody who went out there and impacted the game and it wasn't his scoring."
As a major piece of Indiana's revamped backcourt, much will be expected out of Johnson in his first season in Bloomington.
The early returns in Canada were positive overall as the 6-foot-3 guard did a little bit of everything in averaging 9.8 points, 4.6 rebounds, 3.8 assists and 2.2 steals per game.
He did struggle some with his shot (37 percent overall from the field), but it's clear that Johnson will take on a major role early as a guard who can play on or off the ball. That versatility should allow Indiana to play frequently with Johnson, James Blackmon Jr. and Yogi Ferrell on the court at the same time.
"I think James and I are interchangeable when it comes to that," Johnson said. "Between James, Yogi and myself, we can all initiate the offense and we are all threats so it just makes it easy."
Unlike the average freshman, Johnson arrived in Bloomington with close to a college ready body, which should allow him to quickly adjust to the physicality that he'll face in the Big Ten. The Hoosiers were frequently forced to play small in Canada, which placed an added emphasis on getting to the glass for Johnson.
It's a theme that is likely to spill over to the regular season as Indiana figures to play plenty of three guard lineups, something Crean did at Marquette with success.
"I think the deflections part will be big (for Robert and James), I think the activity part, I think the rebounding part is going to be very big," Crean said. "I've coached three-guard lineups before that rebounded the ball tremendously.
"They're fully capable of being guys who can do numerous things for us and will be known for a lot more than just shooting, driving, offense, things of that nature. No question about it."
Filed to: 2014-2015 foreign tour, Robert Johnson