Montreal rewind: Nick Zeisloft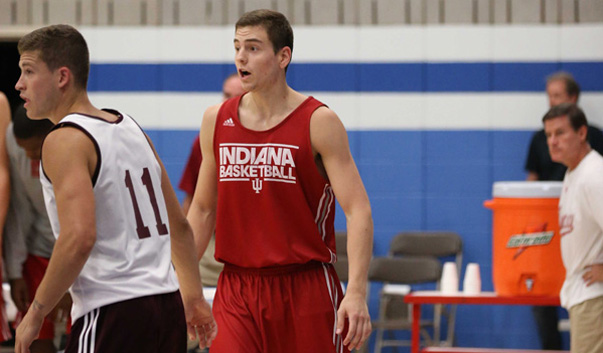 Welcome to "Montreal rewind," our player-by-player recap from Indiana's five-game tour of Canada. Today: Nick Zeisloft.
When Nick Zeisloft emerged as a potential offseason addition for Indiana, the move was met with plenty of skepticism from Indiana fans. With limited scholarships available, why were the Hoosiers looking to add the seventh leading scorer from Illinois State with two years of eligibility remaining?
Over five games in Canada, we learned exactly why as Zeisloft showed that he's capable of being a valuable piece for the upcoming season. The 6-foot-4 guard averaged 8.8 points and hit 11 of the 20 shots he attempted from behind the 3-point line. On a team with plenty of perimeter players who can create off the dribble, a shooter like Zeisloft holds tremendous value when ball handlers drive and kick.
And after working with the team for only few practices before departing for Canada, it did not appear as though Zeisloft needed much time to get incorporated with his teammates.
"He's feeling his way," Tom Crean explained. "It doesn't matter if you're 21, 22, 42, 52, you walk in a new environment and it's going to be different. But we have high expectations for Nick, extremely high expectations for him. Like I said when we started studying his film when this became a possibility, we felt there was a lot on the table left for him. There is and we're going to keep pushing him, but I think he really wants it and he's an extremely hard worker."
Beyond the shooting, Zeisloft picked his spots a few times and got to the rim and also set up teammates for a total of 10 assists in five games.
On a team that was extremely limited in terms of perimeter shooting options a season ago, the addition of Zeisloft along with James Blackmon Jr. and Robert Johnson should totally change IU's backcourt.
"He's definitely a big contributor to our team. We definitely need him," Blackmon Jr. said after IU's win over Carleton. "He is leading us and being a big vocal guys that brings us together in the huddle. We definitely need that."
It says a lot for how Zeisloft is viewed by his teammates that they made it a point to find him routinely throughout the five-game slate and that Tom Crean is already talking about him as being one of the leaders of the group.
"I think Nick is going to be a fantastic leader," Crean said. "It's going to take him a little while to get used to and get comfortable and all those things with the team, but we're highly confident that he will."
Filed to: 2014-2015 foreign tour, Nick Zeisloft