Montreal rewind: Yogi Ferrell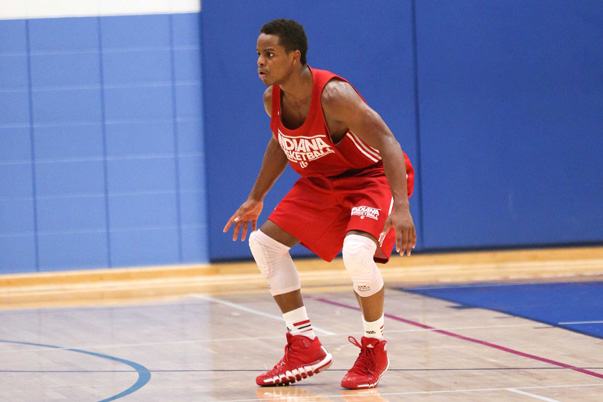 Welcome to "Montreal rewind," our player-by-player recap from Indiana's five-game tour of Canada. Today: Yogi Ferrell. Previously: Nick Zeisloft, Devin Davis, Troy Williams.
There's a strong argument that no player was more critical to his team's production on a game-to-game basis in the Big Ten last season than Indiana's Yogi Ferrell.
Much will be expected of Ferrell once again in his junior season, but on IU's five-game tour of Canada, we received our first look at Indiana's revamped backcourt and the effect it may have on the point guard of the Hoosiers.
The early returns suggest that Ferrell's game should benefit significantly as a result of the overhaul.
Over the five games, the Indianapolis native averaged 15.4 points (57.1 FG%), 4.2 assists, 3.8 rebounds and 1.6 steals in 29.4 minutes per game. He was IU's third leading scorer, led the team in assists and was more vocal than we observed last season.
More importantly, the onus wasn't completely placed on Ferrell to create shots given the fact that he's now surrounded by James Blackmon Jr., Robert Johnson and Nick Zeisloft, three newcomers that can knock down perimeter shots.
"I love it. It reminds me of high school at Park Tudor when I had a bunch of shooters," Ferrell said. "So I know if I drive in and they take me away, they are going to be open. But if they take the shooters away, I have the lane. It is definitely fun for a point guard like me because I can find anyone on the court."
And while Tom Crean has always steered away from naming team captains, Indiana's coach is clearly viewing Ferrell as someone who can blossom into an extension of the staff on the floor.
During IU's first game in Canada against Laval while Crean was seeking clarification from the officials on a call, Ferrell stepped in and ran the huddle.
"I'll give him the huddle and he took it right there to get his team settled in and I love that," Crean said. "That's what you want, you want a team of collective leadership, but they have to be able to look to somebody that's been through it and he has to understand that they need him constantly.
"We've got some very confident young men in the program and, at the same time, we have respectful ones and they respect what he's done, and he respects them. I think that's what's going to make this team continue to be cohesive as we move through the season. There's a high respect level for each other's talents, and that's already been shown. Now, building a bond and a chemistry and all that takes time, but the respect level is crucial. I think Yogi's got a lot to do with that on both ends."
Filed to: 2014-2015 foreign tour, Yogi Ferrell