That's A Wrap: Collin Hartman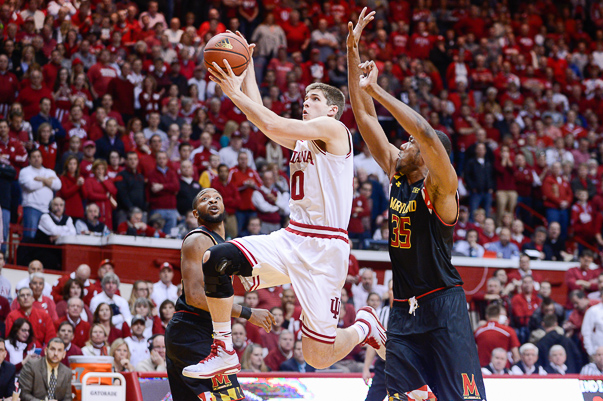 Welcome to "That's A Wrap," our player-by-player recap of the 2014-2015 Indiana Hoosiers. Today: Collin Hartman.
Hartman (31 games): 4.8 points, 3.1 rebounds, 0.8 assists, 8.6 OR%, 64.2 eFG% in 19.7 minutes per game.
Collin Hartman was the surprise of the season.
After a freshman campaign where he was used sparingly on a squad that failed to qualify for the NCAA Tournament or the NIT, Hartman tore his ACL during a workout in mid-March of last year. It was a tough blow and the odds of him making a significant contribution to Indiana's re-tooled lineup seemed slim.
But Hartman put in the work during his recovery and proved the odds wrong.
"I'd never really not had basketball," Hartman said in early December. "Just not being on the court, not being able to work with the guys and do everything everybody else does. It kind of just gave me a new hunger almost to just get out there and just be aggressive (and to) be able to help the team."
Not only was he suited up for Indiana's first game of the season, he started 11 games and went on to be the team's best 3-point shooter from a percentage standpoint (45.6%). His eFG% of 64.2 was good for third on the squad behind Nick Zeisloft (67.4) and Emmitt Holt (65.0).
Beyond his efficient offense game, Hartman was Indiana's glue guy. He often seemed to find himself in the right place at the right time. He made the correct pass. He hustled for loose balls. He grabbed the important rebound. The sophomore also held his own on the boards, as his offensive rebounding percentage (8.6) trailed only Holt (13.5) and Troy Williams (9.5).
And when Mosquera-Perea went down with injury — or when Indiana decided to go small — Hartman did an admirable job at the center position for the Hoosiers. His best stretch 5 performance of the season came in a rout of Maryland at Assembly Hall. Hartman went 4-of-4 from the field (3-of-3 from distance) and knocked in 4-of-5 from the line for a career-high 15 points. Hartman also racked up three blocks during 29 minutes of action.
Hartman, like the Hoosiers, faded a bit down the stretch. He failed to score in back-to-back games at Purdue and Rutgers near the end of February. In that Rutgers game, Hartman picked up a bone bruise on his left knee. He missed Indiana's loss at Northwestern and loss at home to Iowa due to the injury. Hartman returned to action against MSU, but in 54 combined minutes of action vs. the Spartans and then in Indiana's two games in the Big Ten Tournament at the United Center, he scored just three points.
Hartman rebounded in Indiana's loss to Wichita State to close out the season, hitting 3-of-4 from distance to score 11 points.
Bottom Line: On a team with no seniors, Hartman's play for most of the season was that of a savvy veteran. He knew what to do and when to do it. His basketball IQ and decision-making was among the best on the team. Depending on how the Thomas Bryant situation shakes out and when Devin Davis is cleared to play again, it's possible Hartman may find himself in a bit of a different role next season. Instead of spending time at the 5, Hartman is more likely to slot in at the 3 or 4. But this season made clear that no matter what position Hartman has to spend time, he's up to the task.
Quotable: "Everybody today did their job extremely well. When everybody does their job sometimes the ball comes to you at the right spot at the right time. You just got to do your job every time you go out there. " – Hartman following IU's win against Maryland.
Previously: Robert Johnson, Max Hoetzel, Emmitt Holt, James Blackmon Jr., Stanford Robinson, Troy Williams
Filed to: Collin Hartman, Nick