That's A Wrap: Stanford Robinson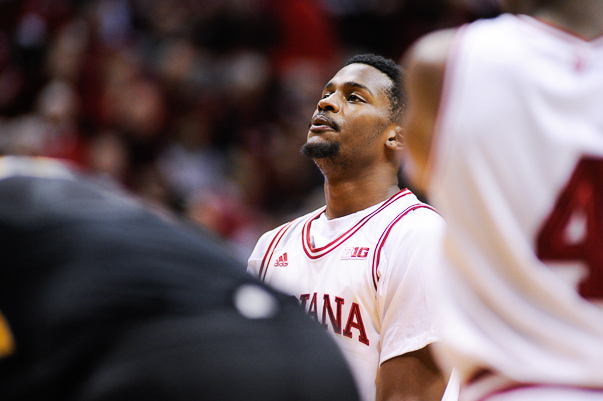 Welcome to "That's A Wrap," our player-by-player recap of the 2014-2015 Indiana Hoosiers. Today: Stanford Robinson.
Robinson (32 games): 3.0 points, 1.9 rebounds, 1.2 assists, 36.7 2PFG%, in 11.4 minutes per game.
Stanford Robinson's sophomore season at Indiana began with hope, and at the same time, turmoil.
It ended in a decision to transfer.
Robinson's up and down season started with an offseason decision to switch his shooting hand from left to right, one that was encouraged by former Hoosier Will Sheehey. And during Indiana's preseason tour of Canada, that change was further encouraged by the fact that he led the team in free throw attempts and shot a 59.1 eFG% in that span.
That optimism, though, quickly faded when news broke on the Monday before Indiana's first exhibition game that Robinson would be suspended for Indiana's first four games of the season due to a failed drug test.
And when Robinson returned to the mix following that suspension, he never was able to find the consistent minutes he earned during his freshman season.
Throughout the 2014-2015 campaign, Robinson struggled to justify the shooting hand switch he made over the offseason. He went 0-for-10 behind the arc this season and again struggled to find consistency in scoring. He took some ill-advised shots. Some just didn't go in.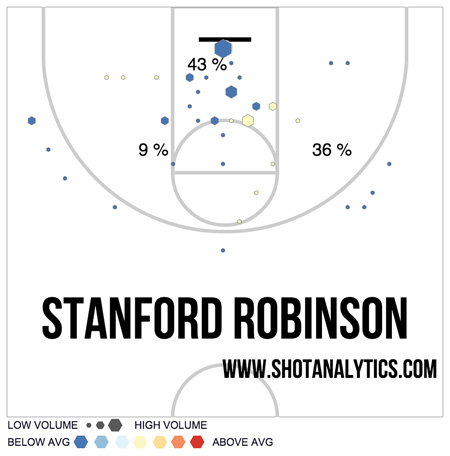 In fact, midway through the season Robinson chose to return to shooting left-handed — a decision he made with Indiana coach Tom Crean — thus ending the failed experiment.
"Switching to the right hand was just an experiment," Robinson said. "(Crean) just wanted to see how it was because it kind of looked better than my left hand, he felt like. It's still an experiment, but he said whatever you feel is comfortable is going to go to the basket, just do that."
Following that decision, Robinson would find a bit more playing time.
Toward the end of this season, Robinson shot the ball less. He distributed more. And he continued to get to the line — finishing the season ranked fifth on the team in free throw attempts.
He also proved his worth on the defensive end.
During a season in which the Hoosiers struggled to defend the post, at 6-foot-4 Robinson held his own against much bigger players, using physicality to guard the paint to a degree of success. In that sense, Robinson provided a bright spot on a team that did not have many, defensively.
But ultimately, Robinson couldn't find the playing consistency he desired. In 32 games played this season, he never eclipsed more than 17 minutes in a game — compared to 15 games past 17 minutes during his freshman season.
It led to a decision to transfer away from Bloomington, his IU career ending after just two seasons.
"I respect Stan's desire to contribute more on the court and understand that the opportunity to play closer to your family is something he would like to have happen," Crean said in a release. "I think he has grown a great deal and matured in the two years he has been a part of the program and I hope he takes his experiences at Indiana University to remind him of what he can accomplish not only as a basketball player, but as a human being."
Bottom Line: After a freshman year in which Robinson saw his minutes increase as the season went on, such a pattern never emerged in his sophomore campaign at Indiana. His season got off to a rocky start, via a suspension and struggles with a change in shooting hand, and ultimately he gave up on the shooting experiment entirely. Offensively, Robinson failed to contribute much, but defensively he proved to hold value in guarding the post — something he can take pride in at just 6-foot-4. Ultimately, though, he could never find his way into the thick of the Hoosiers' rotation. And just five days after the Hoosiers' final game of the season, Robinson announced his intention to transfer at the end of the school year.
Quotable: "Sometimes, the ball's just not going to fall your way. It's not going to fall the way you want it to. But I mean, I'm proud of this team. We still battled even though shots weren't falling. And I think it was just like a mental thing, getting that rhythm, that foot down into it, one-two-step, things like that. When you're missing shots, you've got to just remind yourself, 'Do what you do. Let it fly. No hesitation.'" — Robinson after Indiana's loss to Maryland in the Big Ten tournament
Previously: Robert Johnson, Max Hoetzel, Emmitt Holt, James Blackmon Jr. 
Filed to: Stanford Robinson