Notebook: Walk-on Ryan Burton sparks IU's second half run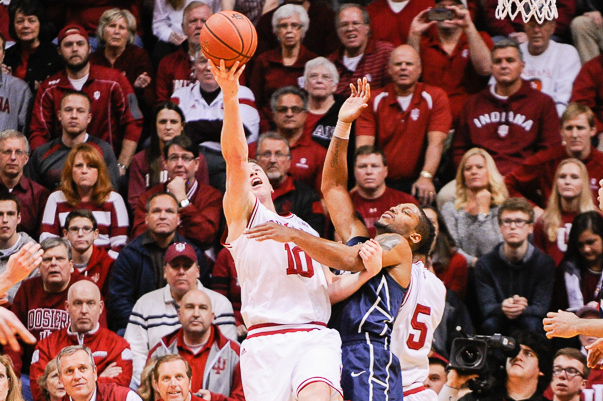 Following an Indiana practice on Monday night, Indiana associate head coach Steve McClain told Tom Crean to not forget about 6-foot-7 walk-on Ryan Burton during Tuesday's game against Penn State.
Yes, Burton — who had played a total 36 minutes all season heading into Indiana's 17th game of the season.
"Don't forget about Ryan," McClain told Crean. "He has toughness. If we need something, don't forget about Ryan."
Crean didn't forget.
After a seven-point Indiana lead vanished into a 51-51 tie and teams traded fouls and misses, the Hoosiers coach put Burton into the game with 12:03 left on the clock. It was his first action since he played four minutes in the closing moments of Indiana's win over New Orleans in mid-December.
Penn State coach Patrick Chambers didn't even have Burton in the scouting report.
"Ryan contributed a lot to this win," sophomore Stanford Robinson said. "Without Ryan who knows what would happen."
Immediately when Burton was put into the game, the Bellarmine University transfer began to make an impact.
He contributed on defense, forcing the Nittany Lions into tough shots. He grabbed offensive rebounds — three, in fact, leading to five second-chance points including a James Blackmon Jr. 3-pointer.
And with Burton on the court, the Hoosiers went on a run. A 51-51 game turned into a 69-59 margin by the time he was substituted off with five minutes of action to his name. The damage had been done, by then.
"He was ready when his name was called," Crean said. "That's what you want as much as anything else. But sometimes you're feeling your way through it, and you're looking for that dose."
"I thought Ryan's five minutes for us were a really, really valuable five minutes."
Burton would not see the court again after he left the game. But the lead the Hoosiers built with him in the game lasted through the final buzzer in a 76-73 win.
And afterward, the opposing coach had nothing but praise for the Beford native.
"He just defended," Chambers said, "and does exactly what Indiana basketball preaches."
Robinson scores 12, 6-of-6 from the line
Robinson recorded a season-high 12 points and 17 minutes of action on Tuesday night, shooting 3-of-6 from the field and a perfect 6-of-6 mark on free throws against the Nittany Lions.
But perhaps more interesting was the way Robinson did it — shooting with his left hand instead of his right as he had done much of this season.
"Switching to the right hand was just an experiment," Robinson said. "(Crean) just wanted to see how it was because it kind of looked better than my left hand, he felt like. It's still an experiment, but he said whatever you feel is comfortable is going to go to the basket, just do that."
After Robinson spoke with his parents and Crean about the matter, he chose he felt more comfortable shooting with his left hand.
And on Tuesday, Robinson drove to the basket and shot with confidence, even converting on an acrobatic layup. His perfect line on free throws also was just the third time he had done that this season.
"We've got to get into that bonus so we can get to the foul line, and Stan helps things like that," Crean said. "The defending, really relishing that role, and getting to the glass, playing with strength and force. That's what he does for us. If he continues to do that, he'll continue to play."
Crean elaborates on Mosquera-Perea injury
During his pregame radio show appearance, Crean elaborated on how junior Hanner Mosquera-Perea suffered a right knee injury that now has him sidelined indefinitely.
Crean said that the 6-foot-9 forward "came down the wrong way" and landed on a foot during practice on Monday, and although he was able to walk off the court under his own power the injury still "could be four weeks" to recover from.
Mosquera-Perea was without crutches at Indiana's game against Penn State on Tuesday, though he had a noticeable limp when he walked.
He had started each of Indiana's prior 16 games before the injury, averaging 7.4 points and 5.0 rebounds in more than 20 minutes of action per game.
Filed to: Hanner Mosquera-Perea, Ryan Burton, Stanford Robinson