Montreal rewind: Stanford Robinson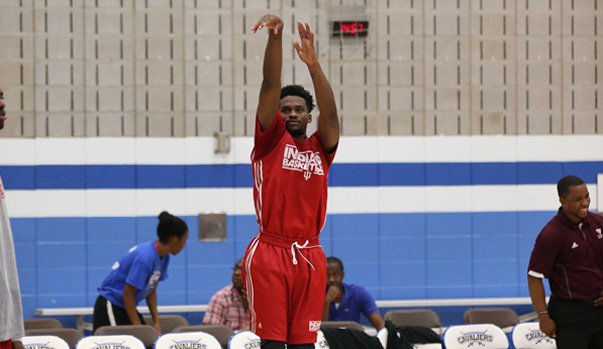 Welcome to "Montreal rewind," our player-by-player recap from Indiana's five-game tour of Canada. Today: Stanford Robinson. Previously: Nick Zeisloft, Devin Davis, Troy Williams, Yogi Ferrell, Robert Johnson.
While much of the focus and discussion up in Canada was on IU's retooled backcourt featuring a pair of freshman sharpshooters in James Blackmon Jr. and Robert Johnson, sophomore guard Stanford Robinson quietly put together a strong trip north of the border.
In five games as a reserve, the 6-foot-3 guard averaged 12 points, 2.4 assists and 1.4 steals in 17 minutes per game. He shot the ball well (59.7 eFG%) and got to the foul line a team-high 28 times.
And he also unveiled a new wrinkle in his game: He is now shooting right-handed. After struggling with his perimeter shot as a freshman, Robinson has been working on making the switch this offseason and in IU's loss to Ottawa, he took and made his first right-handed 3-point attempt.
"It's something he's been working on," Tom Crean explained. "It's a little more natural for him. He's a little but more of a naturally right-handed player. If you look at it, it's much smoother coming off his guide hand. It's all about his guide hand.
"A lot of times his right hand flicks and when he shoots it with the left, the right hand comes inside of it. When he shoots it with his right, the guide hand is staying – I wouldn't say picture-perfect – but it's getting there."
While shoring up his perimeter game can only help Robinson and Indiana long term, the majority of his value will come from his ability to drive the ball and defend.
The fact that he led Indiana in free throw attempts over the five-game exhibition slate suggests he was as aggressive as anyone on the roster in going to the basket.
Robinson has also put on about 12 pounds since the beginning of his freshman season, which should help him continue to get to the rim and also be able to defend in one the nation's most physical leagues.
And as one of the senior members of Indiana's team in terms of experience, Robinson believes the trip will only aid him and his teammates in getting a head start and building chemistry for the upcoming season.
"These guys really push me and each other to be better as a person," he said. "We work on getting each other better for the sake of the team. There was a real brotherhood hanging out and I thought that also helped what we did on the court. You could help each other and it wasn't personal."
Filed to: 2014-2015 foreign tour, Stanford Robinson