That's A Wrap: Troy Williams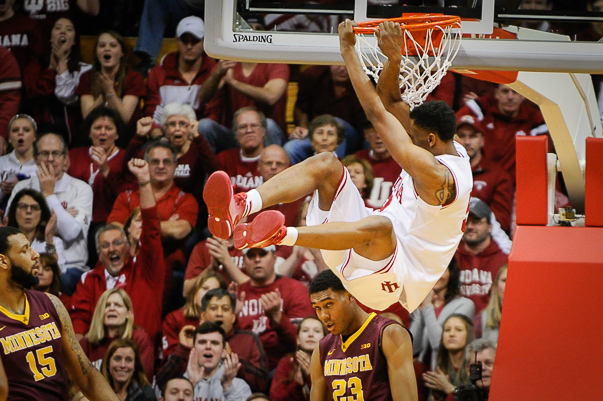 Welcome to "That's A Wrap," our player-by-player recap of the 2014-2015 Indiana Hoosiers. Today: Troy Williams.
Williams (32 games): 13.0 points, 7.4 rebounds, 2.0 assists, 21.7 DR%, 55.0 eFG% in 27.6 minutes per game.
One of the biggest storylines that stood out from IU's trip to Canada last August was the development of sophomore wing Troy Williams.
After a freshman season that saw him start and play significant minutes, it was clear Williams had work to do in order to take the next step as a player. And in Montreal and Ottawa, we saw the first signs of Williams showing off better ball handling, more confidence shooting the ball and more willingness to mix it up on the glass.
The transformation became more apparent once the regular season began as Williams, who missed the first four games of the season due to a suspension, improved his numbers across the board.
On the glass, he led the Hoosiers in rebounding at 7.4 per game and finished the season as the fourth best defensive rebounder in the Big Ten from a percentage standpoint. Williams had eight games of 10 or more rebounds and six double-doubles, which led the team.
From a ball handling and decision-making standpoint, Williams was also better as a sophomore as he trimmed his turnover percentage by 5.5 percent. He finished with a 19.3 turnover percentage, a number that could still use work, but Williams showed better decision-making ability and was a more willing passer, as evidenced by his assist rate, which grew more than six percent.
In addition to the improved rebounding and ball handling, Williams also showed off a more refined offensive game. He added a fallaway right handed floater around the rim, that was very unorthodox but often yielded positive results. Most of his offensive game was at the rim, as he finished at a 62 percent clip and also did a solid job in drawing fouls. Williams took 43 more free throws as a sophomore than he did as a freshman and raised his percentage from 67.5 to 74.2.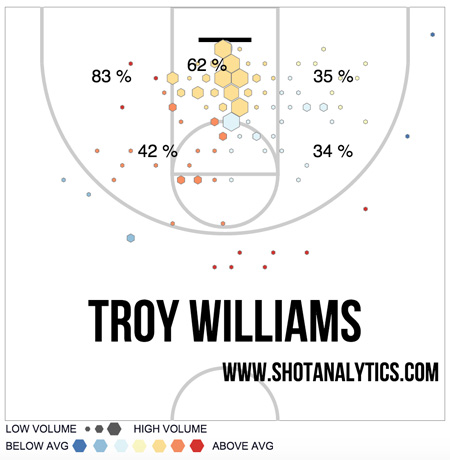 One constant from his freshman year that carried over to this season was Williams' ability to make momentum changing plays because of his athleticism. One memorable sequence came in IU's win over Ohio State in early January when Williams finished a play in transition and immediately sprinted back the other way to make a block on the other end:
The next step for Williams, who still has plenty of room for growth, is to develop more consistency and also make defense a bigger priority. He had several games where he was a non-factor (both Michigan State games are perfect examples) and for a player who has the ability to play in the NBA, wiping away the inconsistency is essential.
Williams also needs to continue to improve his perimeter game. He was able to knock down the occasional 3-pointer this season, but as his shot chart shows, he still lacks a midrange game.
Bottom Line: In terms of pure talent and potential, Williams has the most upside of any player currently in the program. He's the best athlete Tom Crean has recruited to Indiana and given his improvement from a freshman to a sophomore, it's not out of the question to believe that even bigger gains in his game are on the way. If he can continue to focus more on making the simple play and playing within himself at all times, there's no reason he won't be an All-Big Ten type of player as a junior.
Quotable: "From the beginning of the season, we grew so much together and now we're here (in the NCAA tournament). Not a lot of people thought that we were going to make it this far. We're just going to grow from it." – Williams following IU's loss to Wichita State.
Previously: Robert Johnson, Max Hoetzel, Emmitt Holt, James Blackmon Jr., Stanford Robinson
Filed to: Troy Williams