That's A Wrap: Nick Zeisloft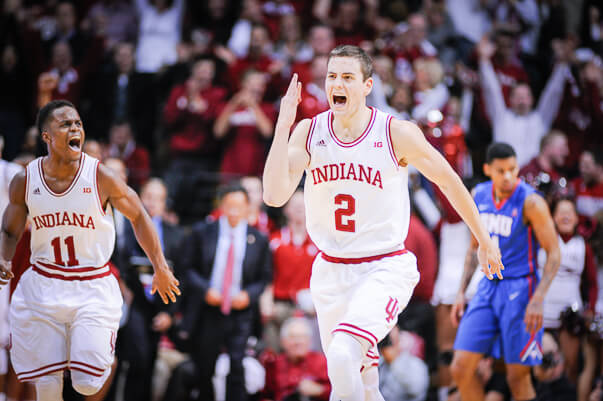 Welcome to "That's A Wrap," our player-by-player recap of the 2014-2015 Indiana Hoosiers. Today: Nick Zeisloft.
Zeisloft (34 games): 6.6 points, 2.2 rebounds, 67.4 eFG%, 45 3PFG% in 19.6 minutes per game.
When Indiana announced the addition of Illinois State transfer Nick Zeisloft back on July 7, the news was met with skepticism from many Hoosier fans.
Why would the coaching staff have interest in a player with two years of eligibility who just came off a season at Illinois State in which he made just under 36 percent of his 3-pointers? In the program's release to announce Zeisloft's addition, Tom Crean cited things like Zeisloft's ability to help space the floor, physical and mental toughness and leadership and maturity on and off the floor.
It wouldn't take long for Zeisloft to start proving critics of his addition wrong.
Less than a month after joining the program, he traveled on the foreign tour to Canada and made 11 of the 20 3-pointers he attempted. With Yogi Ferrell, James Blackmon Jr. and Robert Johnson alongside him in many of the lineups IU featured in Montreal and Ottawa, Zeisloft was able to find space and splash in open looks. This was exactly the role Crean envisioned when he watched film of Zeisloft last spring and summer when contemplating whether to bring him in.
As far as leadership goes, it was clear what Crean thought of Zeisloft when he took him to Chicago for Big Ten media day as one of IU's two player representatives last October. And days later in the aftermath of the Devin Davis accident and player suspensions, it was Zeisloft who went face to face with the media and answered questions about the current state of Indiana basketball.
"We need to keep each other very accountable for our actions on and off the court," Zeisloft said on Nov. 5. "We have to have that accountability 24-7 and it can't let up from that."
The season began, the distractions started to wane and Zeisloft found his role quickly on the IU roster. He started the first five games and had 16 points in the season-opener against Mississippi Valley State. Surrounded by a deep stable of perimeter talent, defenses simply could not afford to focus on Zeisloft and his ability to move without the ball garnered him plenty of open looks.
He finished the season 63-of-140 on 3s and hit an impressive 51.4 percent from behind the arc in Big Ten games. Zeisloft's offensive rating of 151.9 in league games was the best in the Big Ten and his overall ORtg of 139.1 was second nationally. His turnover percentage (10.0) was the best on the team.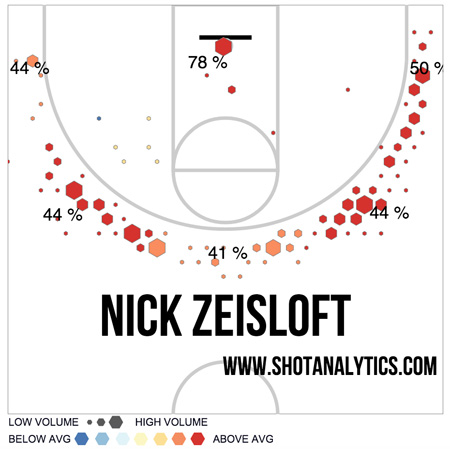 Zeisloft struggled often as a defender, but it wasn't from a lack of effort or communication. He frequently tried to direct the IU defense while on the court, but lacked the athleticism to keep up against some of the upper tier opponents on the schedule. That said, his overall impact was a major plus because his ability to both shoot and take care of the ball were major upgrades over those who he replaced on the roster in Austin Etherington and Evan Gordon.
Bottom Line: Zeisloft was a great addition by the IU coaching staff for a variety of reasons and the fact that he'll return with another season of eligibility remaining should help the program moving into next season. He's a leader on and off the floor, is arguably the best pure shooter from 3 Crean has had at Indiana and is well liked by his teammates and coaches. He certainly has room to grow on the defensive end as he enters his final season, but will provide quality guard depth and experience as the Hoosiers aim for bigger goals in 2015-2016.
Quotable: "We've come far, but we haven't come far enough. We've got plenty left for us and we realize that. This one really hurts because we were right there." – Zeisloft after Indiana's loss to Wichita State
Previously: Robert Johnson, Max Hoetzel, Emmitt Holt, James Blackmon Jr.,Stanford Robinson, Troy Williams, Collin Hartman, Hanner Mosquera-Perea
Filed to: Nick Zeisloft