That's A Wrap: Yogi Ferrell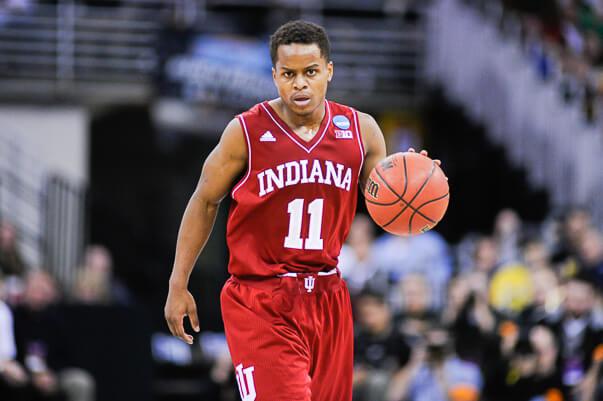 Welcome to "That's A Wrap," our player-by-player recap of the 2014-2015 Indiana Hoosiers. Today: Yogi Ferrell.
Ferrell (34 games): 16.3 points, 4.8 assists, 3.2 rebounds, 53.9 eFG%, 41.6 3PFG%, 86 FT% in 34.9 minutes per game.
After a 2013-2014 campaign where he was the focus of opposing defenses and had to single-handedly carry Indiana at times offensively, things changed for Yogi Ferrell as a junior in Bloomington.
And the changes were a positive for both Ferrell and the Hoosiers.
The departures of several ball stoppers on the 2013-2014 team coupled with the arrival of players like James Blackmon Jr., Nick Zeisloft, Robert Johnson and the emergence of Collin Hartman meant that Ferrell had more breathing room to operate. And the results were fun to watch.
Ferrell's usage was down from his sophomore campaign, but his efficiency was up across the board. His offensive rating was top 40 in the country. His assist rate was up slightly while his turnover percentage fell by four. His effective field goal percentage climbed nearly two percent and his free throw percentage climbed nearly four percent. He also continued to lengthen an impressive streak of consecutive games with a 3-pointer made.  It now sits at 65, the longest active streak in the country and a school record.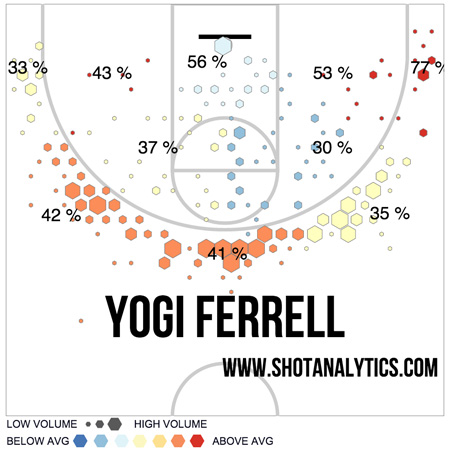 The Park Tudor product was able to strike a perfect balance between facilitator and scorer as he frequently looked to get teammates involved early even if it meant sacrificing some of his own offense. It was a luxury Ferrell didn't have as a sophomore as Indiana's lack of perimeter shooting was an Achilles heel.
When it came to crunch time, though, Ferrell showed early in the season that he wanted the ball in his hands.
While he didn't always get successful results in these situations – late misses at Maryland and against Purdue were especially difficult – Ferrell never shied away from the moment. He always embraced it.
"I let my guys down not making that last shot," Ferrell said following the loss at Maryland. "I made a couple of 3s throughout the game, but if I had to make a 3, I definitely wanted it to be the last one for the game winner."
Ferrell's willingness to step up and take on the role of leader on the floor was a step forward in his development as it was a trait he didn't always exhibit as a sophomore.
The Indianapolis native was rewarded for his stellar season with first team All-Big Ten honors from both the media and coaches and some buzz as a prospect who could have professional options this offseason.
Bottom Line: Ferrell was Indiana's best player this season – and it wasn't really close – and if he returns for his senior season, he could cement himself as one of the best point guards to ever wear the candy stripes. He already owns a Big Ten regular season title, ranks 22nd on the career scoring list and sixth on the assists list, but he's still missing a deep run into the NCAA tournament on his resume. The recent commitment of Thomas Bryant gives Indiana a legit post presence for next season and with one of the best perimeter groups in the country already assembled, the prospect of another run with Ferrell at the controls could yield special results.
Quotable: "We had a great season. Picked 11th in the league and to make the NCAA tournament was a big accomplishment for us. We got over that hump, came together and won some games. I'm really proud of us. We've just got to get better. We have to have a lot more consistency. There can't be any more ups and downs. It's got to be consistent, consistent, consistent." – Ferrell after Indiana's loss to Wichita State in the NCAA tournament
Previously: Robert Johnson, Max Hoetzel, Emmitt Holt, James Blackmon Jr.,Stanford Robinson, Troy Williams, Collin Hartman, Hanner Mosquera-Perea, Nick Zeisloft
Filed to: Yogi Ferrell