Devin Davis acclimating to life back in Bloomington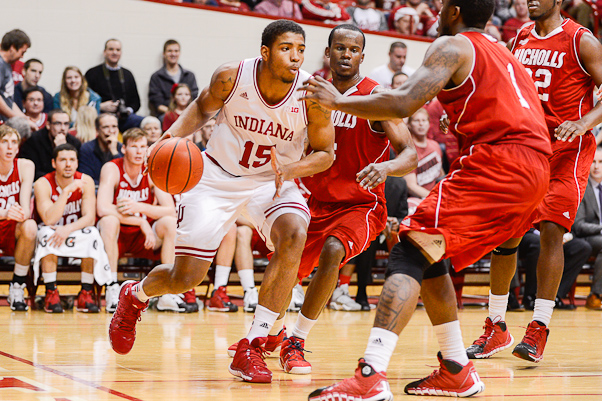 Sophomore Devin Davis is adjusting to life back in Bloomington.
After being absent from the Indiana men's basketball team for more than two months while rehabilitating from a car accident on Nov. 1 that left him with a traumatic brain injury, Davis returned to campus on Jan. 6. He has been back for less than two weeks. And he slowly is returning to normal activities.
Saturday evening, Davis will be leaving Bloomington again — but this time it will be with his teammates. After doctors' approval, Davis will be traveling with the Hoosiers to their Sunday afternoon game at Illinois. It will be his first trip with the team this season.
"His attitude is great," Indiana coach Tom Crean said. "He feels he's doing really well. He feels he's recovered at a really high rate. But we have to keep trusting the plan and trusting the doctors constantly on what that means. And I like the fact that he's hungry but you also have to remain patient knowing that we're all dealing with something that most of us — especially him — … have never dealt with this before."
While Davis was gone, every day during practices the Hoosiers would leave his jersey and shorts on a chair as a reminder of their missing teammate.
Now that he's back, Davis been to every practice. He wears his practice uniform like each of his teammates. He even is participating some — in Saturday's practice, for example, Crean noticed him passing and shooting in certain drills.
Even outside of practices, Davis has tried to challenge his teammates.
"He's already trying to play 1-and-1 and everything like that," freshman James Blackmon Jr. said.
But just having him around, sophomore Troy Williams said, "is like a blessing and a relief at the same time."
During their freshman year, Williams, Davis and teammate Stanford Robinson spent much of their time off the court together. With Davis now in Bloomington, "it feels like the Three Musketeers is back," Williams said.
Crean reiterated that there still is no timetable on Davis's return to game action.
He said that team doctors Larry Rink and Tim Garl are still communicating with Davis's post-injury doctors on the steps toward the 6-foot-7 Indianapolis native's recovery.
Moving forward, Crean said, the Hoosiers will assess Davis on a weekly basis and will add to his practice regimen accordingly.
But for now, Davis is readjusting to life back at school.
"The most important thing is him getting back acclimated to the way he's been to being away from home," Crean said. "To continue to have the responsibilities that he has as a student and as a member of the team but also knowing he's doing a lot of other things to get himself healthy that the average basketball player or student athlete or student is not doing. So we have to keep our focus heavily on that, too."
Filed to: Devin Davis