Illinois filling void left by Rayvonte Rice by committee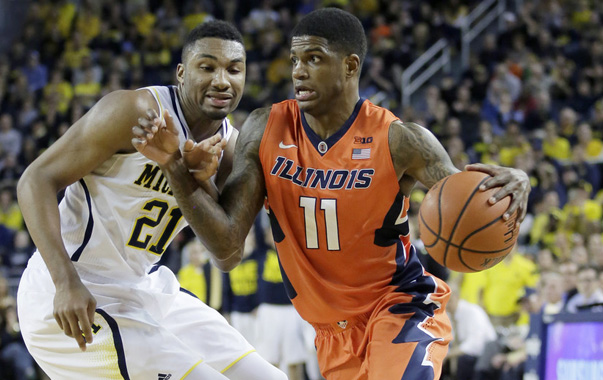 Indiana got to know Illinois's Rayvonte Rice quite well last season — the 6-foot-4 senior's first with the Fighting Illini.
In his three games against the Hoosiers, Rice averaged 20.7 points per game, with more than 70 percent of those points coming from either on 2s or at the line.
But in the Hoosiers' lone regular season match-up against the Illini on Sunday, Indiana will not have to deal with Rice, who is out with a left hand fracture.
Instead, the Hoosiers will have to deal with a team by committee, as Illinois coach Jon Groce said on Friday. A team that has the adaptability of a "chameleon," he said.
"They've had different guys step up and make plays at different times in games because everybody can make a play," Indiana coach Tom Crean said. "I think they've responded really well to the loss of Rice, who's one of the better players in our league without question. But it's because of the fact that they have so many guys with versatility to get to the basket and to shoot the three."
When he has played, Rice has had the Illini's best offensive rating this season. He had started every game and was the team's leading scorer before he suffered the injury during a practice on Jan. 5.
Since then, the Illini have had to learn how to adjust to life without Rice.
Groce commended his team on Friday for being so willing to have a "next guy step up" mentality since the injury. Guards Jaylon Tate, Aaron Cosby, Kendrick Nunn and Ahmad Starks have all played significant minutes without Rice in the lineup.
Illinois has gone 2-1 since losing Rice, with wins over Maryland and Northwestern. Sunday's game will be just the Illini's fourth without him.
In those wins, Crean noted on Saturday, Starks and Hill took 12 of Illinois's last 16 shots in those games. Shots that Rice might have taken otherwise.
But outside of that, Crean said, not much has changed. The Illini have just filled the void by committee.
"I don't know that much has changed with Rice not being out there," Crean said, "other than the fact that it's just another guy that is a bona fide shot maker."
Crean talks Jeremiah April's role
Though the Hoosiers have been undersized throughout much of the 2014-2015 season, they do have a big man available on the bench.
However, 6-foot-11 freshman Jeremiah April has rarely seen the court this season, playing just a total 14 minutes in three games.
Crean said on Saturday that the key to April seeing playing time at any point this season will come down to rebounding, ball movement and defensive ability — he said the Hoosiers aren't a type of team slow the game down and throw the ball in the post, anyway. "There will be a time and a place" for April to make a contribution, he said.
"It is not as much about the size, it's more about the activity," Crean said. "If Jeremiah can come in with that size and bring some activity and create some positive plays, then there will be an opportunity for him."
(Photo credit: Duane Burleson/Getty Images North America)
Filed to: Illinois Fighting Illini, Jeremiah April, Rayvonte Rice