Devin Davis cited for possession of marijuana, suspended indefinitely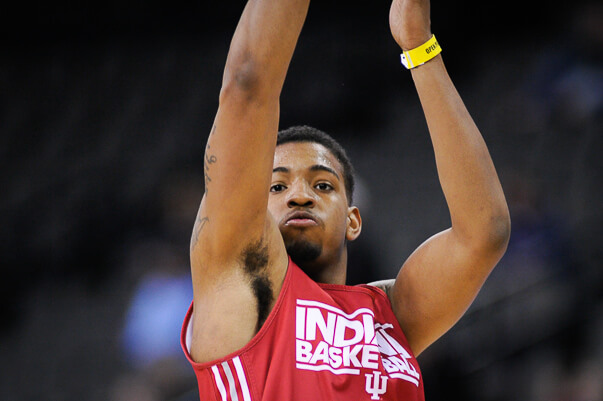 Indiana forward Devin Davis, who missed all of last season following a traumatic brain injury, was cited for possession of marijuana on Monday night by the IU police department.
The news was first reported by Mike Miller of The Herald-Times.
Davis was cited just after 8 p.m. after the IU police department was called to Hickory Hall, which is on Union Street. According to IUPD, officers could smell marijuana coming from an open second floor window and found marijuana in Davis' backpack. He was cited for marijuana possession under 30 grams and will have a court date.
IU announced early Tuesday afternoon that Davis has been suspended indefinitely from all team activities.
"We have been made aware that Indiana sophomore Devin Davis was cited by IUPD for possession of marijuana in an IU dormitory room last evening," IU media relations said in a statement. "Effective immediately, Davis has been suspended from all team activities. Any additional action related to Davis' status will occur after further review of this matter. We understand that junior Hanner Mosquera-Perea was present at the time of the incident but was not charged by IUPD. Mosquera-Perea's role, if any, will also be reviewed as part of this matter."
Davis, a product of Warren Central, was hospitalized for 19 days following an accident last November that also involved Emmitt Holt, but was able to return to school for the second semester and even dressed for IU's final regular season game against Michigan State.
He also traveled with the team for several games during the second semester.
The Warren Central product has three years of eligibility remaining and averaged 2.4 points and 2.6 rebounds in 8.8 minutes per game as a freshman.
Last month, Indiana coach Tom Crean said he was hopeful that Davis would be able to return to the court next season.
"He's doing everything everybody else is doing except he does not play and he doesn't get any contact," Crean said. "But we won't know probably – we'll know a lot better in the summer, but we may not totally know until we get into the school year, but am I projecting him to be here? Well, certainly in my own mind I am, but does that mean he is completely? Not yet. Medically speaking not yet."
Filed to: Devin Davis