Indiana's late run falls short in 74-72 loss to Michigan State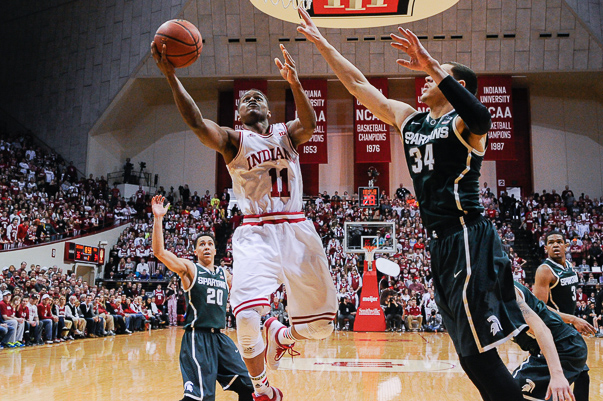 As the buzzer sounded for the under-4 media timeout in the second half of Saturday's game against Michigan State, Hoosiers fans became restless. Indiana trailed by 11 points and Yogi Ferrell had just turned the ball over with just 3:50 remaining.
Fans began to boo. Some left Assembly Hall. But the Hoosiers didn't quit.
Indiana went on a 16-7 run in the final 3:15, but it wasn't enough. The Hoosiers (19-12, 9-9) on Saturday lost their third straight game in a 74-72 defeat to the Spartans (21-10, 12-6).
"I feel like we came out too slow and we all tried to turn it on too late," freshman James Blackmon Jr. said. "We turned it on and made that run, but we should have just picked it up from the start."
After a first half in which both teams were even on the scoreboard, Indiana went on a 4-0 spurt to start the second half — two quick layups back-to-back to bring Indiana's lead to a 38-34 margin. Michigan State, though, would follow with a 9-0 run of its own, setting the tone for much of the second half.
Two offensive rebounds led to a Marvin Clark 3-pointer. A missed Hanner Mosquera-Perea layup turned into an Alvin Ellis III layup in just four seconds. Another offensive rebound led to a Clark put-back. And then the Spartans tore the Hoosiers' zone apart off a set-play, ending in a Travis Trice jumper.
"That's basically how they got their run in the second half," Yogi Ferrell said. "They got a lot of second-chance opportunities with the offensive rebounds and kick-outs. We've just got to fight it better. Got to crack them before they come into the paint because we know that they're big. We've just got to carve out space and try to make the rebound."
Indiana would come back from that specific run to even take a one-point lead. But the seeds were planted for further Spartans' success.
In the second half, the Hoosiers allowed six offensive rebounds and eight second-chance points. They allowed another 11 fast-break points — all three aspects they discussed before Saturday's game as critical factors to the eventual result.
But early in that under-4 media timeout, the boos stopped. Most fans stayed. After a Hoosiers stop and an ensuing Ferrell layup, followed by another stop and an ensuing foul call, Assembly Hall came alive. It would spark the Hoosiers 'comeback.
"I'm proud of the way they came back, I really am, because that's not easy," Indiana coach Tom Crean said. "I thought the crowd had some real energy and really helped them pop, too, which was really good because they need that, they really need that, the kids need it."
Slowly but surely, the Hoosiers clawed back. They didn't allow a Spartans basket in the final 3:50. They forced the Spartans to shoot free throws — and even then they shot just 7-of-14 at the line in that span. And all the while, the Hoosiers made baskets of their own.
After a Nick Zeisloft 3-pointer, two Spartans free throw misses and an another two IU free throws from James Blackmon Jr., the Hoosiers got within one point with just five seconds remaining. The Hoosiers even had a chance to tie it after the Spartans fouled Ferrell with just two seconds left, leading by two.
Ferrell's first free throw circled the rim and fell in. The second attempt, to tie the game, hit the right side of the rim and bounced out.
A desperation heave from Zeisloft with 0.7 seconds on the clock fell well short as the Spartans held on to win.
But that didn't stop Crean from praising his team for the fight they had after falling behind by as many as 11 points late in the game. After that last buzzer, most fans applauded the Hoosiers for just that.
"They had the belief they were going to win the game and we got right there, at least to tie it," Crean said. "It just didn't happen."
Davis dresses, participates in warm-ups
For the first time this season, sophomore Devin Davis dressed for a game and warmed up with the Hoosiers.
Davis has been recovering all season from a traumatic head injury suffered in a car accident early in the morning on Nov. 1, and while he has been with the team for most of the season and is redshirting, Saturday was the first game this season in which he ran onto the court in candy-striped pants.
"That was important to him," Crean said. "He wanted a chance to do that. He's really gone through a lot and that was something that he wanted to do."
High-profile recruits in attendance
Indiana had three recruits of at least four-star caliber in attendance on Saturday, including 2015 6-foot-10 McDonald's All-American Thomas Bryant and brothers Thon and Matur Maker.
All three have previously received scholarship offers from the Hoosiers.
Bryant, a four-star center from Huntington Prep, wore a grey Indiana shirt during the game and received multiple ovations from fans in his second visit to Bloomington since October.
The Maker brothers, meanwhile, made their first visit to Assembly Hall and stayed well after the game — even getting a tour from assistant Chuck Martin. Thon Maker is ranked as a top-10 prospect in the class of 2016, although he has said there is a 70 percent chance he reclassifies into the class of 2015, while his younger brother Matur is ranked as a four-star prospect in the class of 2017.
Filed to: Devin Davis, Matur Maker, Michigan State Spartans, Thomas Bryant, Thon Maker