Bud Mackey Archive
Instead of moving into one of the IU residence halls on Wednesday morning — former recruit Bud Mackey, the subject of the first post published on this very site (Thus the continued coverage of this story until its conclusion. We're diligent like that.) — will soon be checking into the Scott County penal system.
Here are the details from LEX-18:
Mackey, 19, pleaded guilty to first-degree possession of a controlled substance. The Commonwealth's Attorney recommended a sentence of five years for Mackey, and recommended that a minimum of six months be served.
Boys and girls, this is a lesson of exactly what not to do with your senior year of high school. While the only illegal participation by most college freshmen is the search for a fake id to get into Kilroy's, Mackey will soon be fitted for an orange jump suit. Rest assured that our old friend Kelvin still has Mackey's back. Wait, what's that Bud, you haven't heard from Kelvin? Neither have we.
Editor's Note: You may have noticed the change in the author bylines on Inside the Hall. Big A, PostmanE and PostmanR will now be known by Alex, Eamonn and Ryan.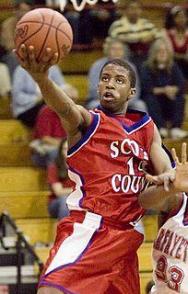 Bud Mackey, who lost his opportunity to attend IU after being caught at school with crack, is a free man once again. WKYT in Lexington, Kentucky reports that Mackey was released at 12:01 a.m. on Thursday:
Former Scott County High School basketball star Bud Mackey is out jail, but not out of trouble. Workers at the Scott County Jail say Mackey was released at 12:01 a.m. Thursday.

He served 60 days for violating his bond. He's been in trouble since being arrested on drug charges.

A judge says Mackey must now live with his grandfather in Lexington and get a full-time job or work toward his GED. His trial on drug charges begins in August.
The most unbelievable part of the whole story is that Mackey's name still comes up as one of the "best available" players remaining on the board for 2008 by a couple different recruiting services. I put Mackey's chances of ever suiting up at a legitimate DI school at less than 50 percent.
Switching gears a bit, Jordan Crawford has narrowed his list of schools to five and Kentucky isn't among the finalists. Jerry Tipton of The Lexington Herald Leader has the details:
Jordan is considering Xavier, Cincinnati, Texas, Oklahoma and Central Michigan. He's "leaning more than heavily" toward one of those schools, his mother Sylvia said.
The school that Mrs. Crawford is referring to is Xavier, reportedly the second choice for Crawford when he picked Indiana in November of 2006. He's expected to make his decision sometime this weekend.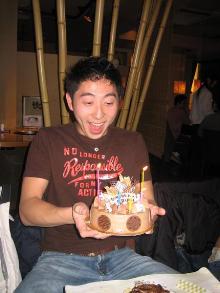 A year ago today, Big A tossed down the very first post on this here blog. (About Bud freakin' Mackey of all people.) Since then, it's been about the most gosh darn eventful time in IU's recent — or perhaps entire — history. To wit: we had Mackey and crack, Sampson phone problems, Senderoff's resignation, players getting suspended, and suspended, and suspended, Sampson phone troubles again, his dismissal, the Dakich take over, the team collapsing under the weight of it all, Dakich booting Bassett and Ellis, Tom Crean taking over, the whole damn team leaving and Crean recruiting everyone you haven't heard of under the sun. (We can all breath now. Phew.)
If you were to say we expected even a tenth of this stuff to go down, we would not have believed you. (This is how these things always go, it seems.) But hey, it was fun to cover and blog about. Sure: we would have loved for IU to storm their way to the Final Four, for Eric Gordon, D.J. White and Kelvin Sampson to cut down the nets in San Antonio, but things do not always go as we would have hoped.
Without confirming with E — though I know I don't need to — the reason this site has garnered any amount of success is because of Big A. The guy lives and breathes this blog and he churns out the posts day in and day out. Myself and E are tied up with other writing endeavors outside of the real jobs (I'm also incredibly lazy); without Big A this site ceases to exist.
Lastly, we want to thank each and everyone of you. Without the comments, the visits, the feedback and the tips, we wouldn't be nearly as enthused about the site, and what the future holds for it. To the commenters who have been here since the start, (hi Kelin and Jamie!) we thank you. To those that joined along the way and have made a community out of this place, we thank you.  We hope we've done a good job with year one; we look forward to year two.
Go Hoosiers.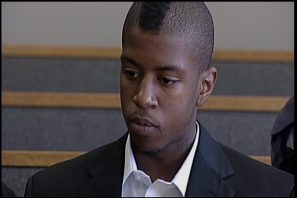 Speaking on the record for the first time since last September when he was arrested for possession of crack cocaine at Scott County High School, former Indiana recruit Bud Mackey tells Jillian Ogawa of The Lexington Herald Leader that he's sorry for what happened:
"All the people that was behind me, I let them all down, It's like they wanted it more for me than I wanted for myself, and that really doesn't matter unless I wanted it for myself."

Mackey said he has always had a supportive family who encouraged him to do well in school. But, reflecting back, he started taking missteps last July.

He met up with a couple of old friends "and their future was kind of rocky," he said. "I don't know what I was thinking. I just thought it would never happen to me."

"It's just something real foolish," he continued. "Now my future is in someone else's hands."

Mackey hopes that others will learn to not "get caught up with the wrong crowd," Mackey said. "Stay far, far away from drugs because it's really not worth it. … If you end up messing around with drugs and end up being put in here, you'll be in the same situation I am in. Your life is in someone else's hands."
It's good to see Mackey taking accountability for his actions, but it's unfortunate that it had to come to this. With what went down with Kelvin Sampson and how involved Mackey was with the excessive phone calls, it's unlikely that he would have ever made it to Bloomington. However, after talking to this young man and also watching him play, it's sad to see someone with such god given talent throw it all away. Ultimately, Mackey will get another chance somewhere down the road and hopefully he makes the best of it.
Previously on Bud Mackey: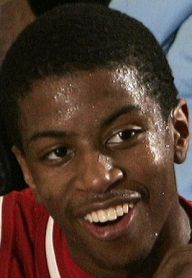 You remember Bud Mackey, right? The former IU recruit who was arrested back in September on charges of possession of crack-cocaine at his high school has been sentenced to 60 days in jail for contempt of court, reports Lex 18:
Former Scott County basketball star Bud Mackey was sent back to jail Monday after a judge ruled that he had violated the terms of his bond on a drug charge. The judge in the case sentenced Mackey to 60 days in jail on contempt of court charges after it was discovered that Mackey, who was attending school in Cincinnati and living with his grandmother as part of the terms of his bail, had dropped out of school and moved back to Scott County without informing the court.

Mackey, who at one time was considered a Kentucky Mr. Basketball candidate, faces 10 years in prison on the drug charge. His trial is scheduled to begin on August 25.
Mackey is just another feather in the cap for Kelvin Sampson during his great run in Bloomington. Luckily for IU, Mackey never actually made it to campus and won't continue his shenanigans on the university's watch. Sampson did so many great things – excessive phone calls, letting players skip class and not make their grades (which kills APR)…the list goes on. Whatever bumps and bruises IU takes the next couple of years will be worth it simply because we've cleansed ourselves of a man who never had any business running the program all of us hold so near and dear to our hearts to begin with.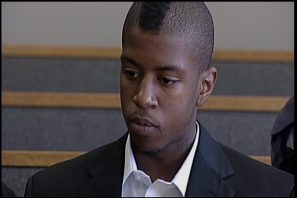 The saga of Bud Mackey has taken another twist. The former IU commit has enrolled at Harmony Prep in Cincinnati and is suiting up alongside IU signee Terrell Holloway.
Nevermind pending felony charges on trafficking in a controlled substance within 1,000 yards of a school. You would think laying low and following court ordered instructions to stay in Georgetown, Kentucky would be at the top of Mackey's priority list.
Instead, he's already talking about his future in college (he likes Cincinnati), flirted with transferring to Redan in Atlanta, Georgia and most recently, a Scott County judge ruled that Mackey could stay in Cincinnati and attend Harmony.
I'm all for Mackey going to school and working on getting his life back together. What I'm not for is Mackey getting back on the court so soon. Basketball should be the last thing on his mind. His case will be heard by a grand jury next month and an indictment could follow that hearing.
So I ask you, ITH faithful, should Bud Mackey be playing basketball given his legal woes? Should a school (obviously not Indiana) take a chance on him? Your thoughts in the comments, por favor.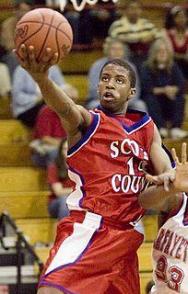 We haven't talked about Bud Mackey in quite a while and for good reason: He was found at school with crack-cocaine in his shoe.
The former Scott County (KY) star who was the MVP of the 2007 Kentucky state tournament has moved to Atlanta and will play for Redan High School.
The story goes that former Duke player Roshown McLeod called Mackey and asked if he'd like to move in with him. Mackey accepted that invitation according to the Georgetown News-Graphic.
"(McLeod) called me and asked if I wanted to come out here and live with him," Mackey said. "McLeod is a mentor. He guides us in making decisions."

McLeod is the owner of a company called Next Level Players Development.
As far as how Mackey is allowed to pack his bags and move away in the middle of the legal woes he is facing, your guess is as good as mine. I've heard rumblings over the past month that a deal would be worked out that would keep Mackey out of prison and he would end up at Cincinnati. Mackey told the Georgetown News-Graphic that Cincinnati is his leader and offered the following about Indiana.
Mackey said Indiana head coach Kelvin Sampson, who previously offered him a scholarship, wants him to attend a junior college before coming to IU, but the guard said he wasn't interested in that route.

"I don't want to do that," Mackey said.

Mackey remains free on $10,000 bond, and no date was set Thursday for the grand jury to hear his case.

"Once all of this is over it will be a great success story," Mackey said.