Signing period kicks off; Jones decision expected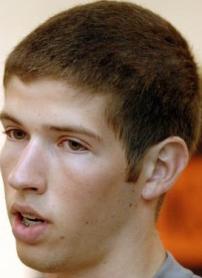 The Hoosiers are expected to sign four players in the early signing period, which begins today and runs through Nov. 21, and we'll also learn where Mt. Vernon (NY) forward Kevin Jones will continue his career.
The four-man class, highlighted by Devin Ebanks, is considered to be one of the top 20 in the nation. That ranking could get a sizable boost if Jones decides to don the candy striped pants. Joining Ebanks in the 2008 recruiting class are guards Matt Roth (pictured) and Terrell Holloway and forward Tom Pritchard.
I've fielded some e-mails and I've been asked in the comments where Mr. Jones is going and your guess is as good as mine. All of the buzz seems to be centered around Pittsburgh, West Virginia and Indiana. However, Kevin's brother, Gerard, still mentioned Seton Hall, Rutgers, St. John's and Massachusetts as possibilities as recently as last week.
The fact is the lid has been kept fairly tight on where Jones will end up. He's expected to announce his decision at a 2:00 presser at Mt. Vernon.
While I'm very encouraged with a second straight top 20 recruiting haul for Coach Sampson and staff, I'm also left daydreaming on what could have been if Bud Mackey and Tyler Zeller were a part of this class. We'd probably be talking a top three class nationally, but so it goes in the world of recruiting. There's always next year, right?
So what are your thoughts on this recruiting class? Thrilled? Disappointed? Indifferent? And where is Kevin Jones going to end up? Since I don't know, can you fill me in?
Related:
Filed to: Bud Mackey, Devin Ebanks, Kevin Jones, Matt Roth, Terrell Holloway, Tom Pritchard, Tyler Zeller