Matt Roth will be a Hoosier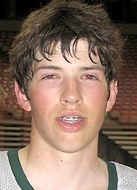 Coach Kelvin Sampson and staff have landed their third commitment for the 2008 class as Washington (IL) guard Matt Roth has given a verbal pledge to IU.
A relative unknown nationally until this summer when he opened eyes with his sweet shooting stroke, Roth caught the eye of Kelvin Sampson at the Adidas Super 64 AAU Tournament in Las Vegas.
After an unofficial visit to Bloomington a couple of weeks ago where Roth was able to meet with the staff and tour the campus, the Hoosiers became a leader to land Roth along with St. Louis University and Bradley.
Ultimately, the Hoosiers won out, presumably because the Big Ten offers a chance to play against better competition and the chance for a National Championship.
As a junior last year, Roth averaged 21.1 points per game. He shot 48 percent from behind the arc. His 143 three-pointers were just short of the state record in Illinois.
Filed to: Matt Roth