Bud Mackey arrested on drug charges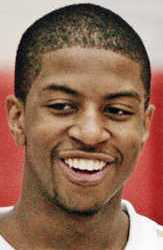 (9/30, 6 PM Update: The Georgetown News-Graphic has details on Mackey from his high school coach, Billy Hicks)
(9/30, 9 AM Update: The Georgetown News-Graphic, Mackey's hometown newspaper, provides details on the charges.)
(9/29, Noon Update: The Herald Times in Bloomington reports that Mackey was released on $10,000 cash bond and has a hearing scheduled for October 16.)
(9/29, 9 AM Update: The Lexington Herald-Leader has new details on Mackey's arrest. The World Wide Leader has also picked up the story.)
There's a headline tonight that you never like to see and in this case, it's the news that 2008 recruit Bud Mackey has been arrested and charged with trafficking in crack cocaine.
Here's the latest, according to the Lexington Herald-Leader:
Bud Mackey, considered one of the state's top basketball prospects in the class of 2008, was arrested at Scott County High School about 5 p.m., according to officials at the Scott County jail.

He has been charged with trafficking in a controlled substance within 1,000 yards of a school and trafficking in a controlled substance first degree, first offense (cocaine).
LEX18, an NBC affiliate in Lexington, has also confirmed the report.
Obviously, Mackey's basketball career takes a backseat and the focus should be on the young man getting the help he needs. This story comes as a shock to me as I've met Bud and by my accounts he's a quiet and respectful kid. Let's hope for a positive outcome to this troubling situation, but this does not look good.
Here are some additional links to the coverage of this story:
– Mackey facing cocaine charges {Hoosier Nation}
– Scott County's Mackey jailed {Louisville Courier-Journal}
– Top IU recruit Mackey held in cocaine case {Indianapolis Star}
– Waiting out Mackey not the way to go {News and Tribune}
Filed to: Bud Mackey