Scouting Report: Devin Ebanks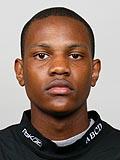 Jody Demling covers recruiting for the Louisville Courier-Journal. Inside The Hall recently spoke with Demling about 2008 recruit Devin Ebanks. Visit Jody's blog by clicking here.
Inside the Hall: You first saw Devin Ebanks at an AAU tournament in Bloomington back in early May. What stood out about Ebanks?
Jody Demling: Honestly, the first thing that stood out was not his talent – which is also very obvious – but in watching several games of his it was more his demanor on the floor and just the way he goes about playing the game. I remember one play in Bloomington – and grant it this was early spring and no college coaches there to impress – he went almost flying into the bleachers that were folded in on the sideline going after a loose ball out of bounds and it was near midcourt. Most players – of any caliber – would have just let that go. But Devin seems like a hard worker in everything that he does and that normally rubs off on teammates.
ITH: Ebanks has been compared by some recruiting analysts to both Rudy Gay and Kevin Durant. Who would you compare Ebanks to?
JD: I saw where Seth Davis said Rudy Gay and I swear I am not just copying what Mr. Davis said last week but I actually said it on the phone to several folks after the first few minutes I saw him in Bloomington. It's really amazing because there are a lot of similarities to Gay's game. I didn't see Gay at the same age but have been told by several scouts – that I trust – that Ebanks plays a smarter and more consistent game. Now, that's a pretty darn good billing!
ITH: Why do you think Devin ultimately chose Indiana over Miami (FL) and Rutgers?
JD: I think there were several factors that led to it and after talking to Devin a bit two were fairly easy – the rabid IU fans (he loves that stuff) and the academics. But one thing he keeps saying in interviews is that he needs to get better on defense and that coach Sampson is the man for him. No matter what the reasons, IU fans should be very happy.
ITH: Rivals.com recently updated their rankings for the class of 2008 and Ebanks moved up a couple of spots to No. 9. You've seen plenty of players this spring and early summer. Would you have Ebanks in your top 10 for 2008?
JD: It's hard with this Class of 2008 because after watching a lot of players and talking to coaches and scouts and the like, I have come to the conclusion that the class isn't as talented as the '07 class was or the '09 class is behind it. There are some talented players, but not like we have seen in recent years. I would say there are 4-5 players that you could consider the top player in the country and a group of 6-7 right behind those guys. Devin is in that second tier, which is pretty good and honestly he could move up higher than No. 9 before it's all said and done!
ITH: What type of impact do you expect Ebanks to have as a freshman at IU and how will he fit in with Coach Sampson's system?
JD: I think he'll fit into the system just fine, as long as he learns to play better defense. It's the only knock I have seen on his game. IU will put some weight on his body before he hits the floor, which will help in the rugged wars of the Big Ten. But I expect he'll do big things as a freshman.
Filed to: Devin Ebanks