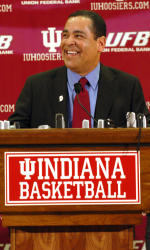 In our experience with him, if there's one thing to know about Kelvin Sampson, it's that he has a pretty great sense of humor. He gets bristly at times, but most jokes are well-delivered and well-received. (Ahem: most of the time. Sometimes he's not so nice.)
Anyway, that sense of humor is probably a positive now that Kelvin's out on the recruiting trail at IU for the first time. He's had to take a little abuse from some old friends in the coaching fraternity:
Kelvin Sampson took it like a man. The Indiana head coach was razzed by Texas' Rick Barnes and Minnesota's Tubby Smith when he walked in the gym on Sunday afternoon.

"Where have you been?" joked Barnes. "Call me sometime."

"Still got the ankle bracelet?" added Smith.
In my fantasy world, Sampson tells both of them to eff off. He tells Rick Barnes exactly how much better Texas' last season could have been with a coach who actually knew how to utilize the once-in-a-generation talent that landed in his lap … and he tells Tubby Smith to forget about beating IU for any recruits in the next five years, because if he couldn't recruit at Kentucky, he'll never land anyone at Minnesota. "I recruited better than you from my living room, Tubby!"
They probably just shook hands and laughed. But a guy can dream.
(HT: The Hoosier Report)
Filed to: Kelvin Sampson, Rick Barnes, Tubby Smith