Devin Ebanks selected for Boost Mobile Hoops Classic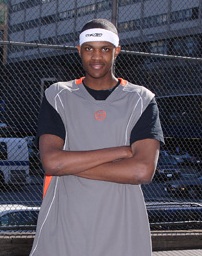 IU's top verbal commitment for the class of 2008, Devin Ebanks, has been selected to play in the second annual Boost Mobile Elite 24 Hoops Classic. The event will be held August 24 at Rucker Park in New York.
Here's what the announcement from Rise Magazine had to say about Mr. Ebanks:
Devin Ebanks, St. Thomas More (Oakdale, Conn.): The ultra-talented Ebanks, who's headed to Indiana, can do it all.
Among the other guys to check out in the event:
– Samardo Samuels: A talented big man from New Jersey headed to Louisville.
– Dexter Strickland: A junior-to-be super guard from St. Patrick's in New Jersey that IU, along with every other major program, is said to be courting.
– BJ Mullens: Another big man headed to Big 10 rival Ohio State.
– Brandon Jennings: The top point guard from the class of 2008 who will play for Lute Olsen.
This will be nice exposure for Ebanks, as well as a chance for IU fans in the NYC area to check out his game. As far as I know, he's only played in one AAU event this summer.
His selection only cements the belief that he's one of the top 10 players nationally in his class and will make an immediate impact upon his arrival in Bloomington.
Filed to: Boost Mobile Elite 24 Hoops Classic, Devin Ebanks, Dexter Strickland