Is this D.J.'s last year at IU?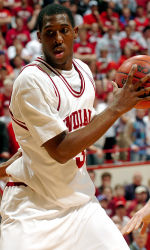 D.J. White has the option to come back for a fifth year at IU if he so desires. But will he?
Well, Kelvin Sampson doesn't seem to think so. From Andy Katz at the WWL:
Although listed as a senior, White could return to Indiana next season after receiving that medical redshirt year, but that's an unlikely proposition, Sampson said.

"But if the year plays out the way it should, then that should be a moot point," Sampson said of White likely declaring for the draft after this season. Indiana lists White as a senior on the Web site because it's his fourth year in school.

D.J. White's career has been slowed by injuries, which have contributed to his return to Indiana for a fourth year.

"It's nice to know that if something happens, he can come back," Sampson said. "But everyone anticipates he'll have a great senior year."
I'd have to think Sampson's feelings are the general consensus here. It's going to be harder for teams to double-down on White this year with Eric Gordon lurking around out on the perimeter, which means D.J. will get the opportunity to showcase his stuff more. And, regardless of Gordon or not, White is in position to make some real noise in the Big Ten and beyond. But can he play himself into a first-round lock? Or better yet, a lottery pick?
Eh, much too early to tell. But with White recently working his way onto the Pan Am team, I certainly wouldn't rule it out either.
Filed to: Andy Katz, D.J. White, Kelvin Sampson