Trio of in-state talent impressive at KY Hoopfest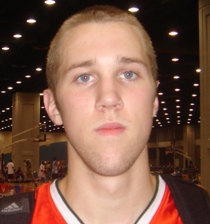 There were three impressive talents from the state of Indiana all in the same building Monday evening at the 2007 Kentucky Hoopfest. Members of the 2009 class, Stephan Van Treese and Derek Elston, and 2010's Ray McCallum Jr. were on display and there were plenty of college coaches watching the action.
Front and center for Elston's performance for SYF were Purdue head coach Matt Painter and Indiana assistant Rob Senderoff. Elston showed off nice footwork, a knack for loose balls and above average quickness for a big man. Unofficially, the Tipton native scored 10 points and grabbed 10 rebounds in the contest I saw.
Stephan Van Treese (pictured), also drew a nice crowd of coaches for his appearance with his Indiana Elite One team. Along with Senderoff and Painter, representatives from Marquette, Kentucky, Iowa and Butler took in the action. Van Treese did nothing but reinforce the fact that he's probably the top big man out of the Hoosier state in the 2009 class. Van Treese showed explosive moves towards the basket as well as solid hands for a big man, despite recently coming back from an injury.
The third and perhaps the most intriguing prospect at the event was Ray McCallum Jr., son of IU assistant coach Ray McCallum. Ray Jr., who will be a sophomore at Bloomington North, looks like a can't miss point-guard prospect. He has an above average handle, exceptional court vision and was by far the quickest player on the court.
McCallum Jr. looked to set up his Indiana Elite One teammates first, which is what I liked about him the most. When he did look for his offense, he was blowing past defenders for easy layups. The only thing I didn't get to see was a jump shot, but he did show a nice stroke from the free throw line.
So there you have it, my first experience on the recruiting trail. Hope you enjoyed.
Filed to: Derek Elston, Matt Painter, Ray McCallum Jr, Stephan Van Treese