Vitale on IU, Eric Gordon and the Mackey situation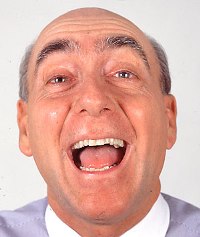 I caught ESPN's Dick Vitale on the radio this afternoon with the Zonebusters on 1570-AM in Louisville and here's what the Vitale Bald Dome Index (VBDI) had to say about IU, Eric Gordon and the Bud Mackey situation:
"Eric Gordon, I think could be the guy on the perimeter like Kevin Durant. I think he's going to really have people going bananas down there at Indiana. I think Sampson's recruiting class has been phenomenal. They just got a tough blow with the kid out of Kentucky who got in trouble for next year. It's just sad when you hear those situations. It really breaks your heart when kids have such an opportunity. He's certainly innocent until proven guilty, but you read about so many athletes today who just don't make good decisions in their life and that really bothers me because I love the game so much. I think Indiana will be a major, major factor in the Big Ten."
Wow, Kevin Durant? The same guy who just won player of the year as a freshman? That's a lot to live up to, but I wouldn't put it past our boy, EJ. As far as the comments on the Mackey situation, I have to echo the sentiments of Dickie V. It's just a sad situation all the way around.
Filed to: Bud Mackey, Dick Vitale, Eric Gordon, Kevin Durant