Mackey enters guilty plea in crack cocaine case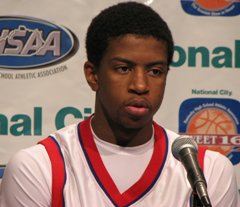 Instead of moving into one of the IU residence halls on Wednesday morning — former recruit Bud Mackey, the subject of the first post published on this very site (Thus the continued coverage of this story until its conclusion. We're diligent like that.) — will soon be checking into the Scott County penal system.
Here are the details from LEX-18:
Mackey, 19, pleaded guilty to first-degree possession of a controlled substance. The Commonwealth's Attorney recommended a sentence of five years for Mackey, and recommended that a minimum of six months be served.
Boys and girls, this is a lesson of exactly what not to do with your senior year of high school. While the only illegal participation by most college freshmen is the search for a fake id to get into Kilroy's, Mackey will soon be fitted for an orange jump suit. Rest assured that our old friend Kelvin still has Mackey's back. Wait, what's that Bud, you haven't heard from Kelvin? Neither have we.
Editor's Note: You may have noticed the change in the author bylines on Inside the Hall. Big A, PostmanE and PostmanR will now be known by Alex, Eamonn and Ryan.
Filed to: Bud Mackey