Katz: IU to withdraw Mackey offer regardless of outcome in court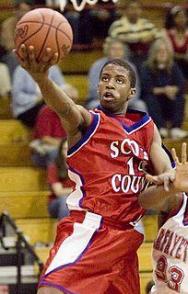 It's been quiet on the Bud Mackey front these past two days, but now ESPN.com basketball columnist Andy Katz is reporting that IU will withdraw its offer to the Scott County standout regardless of how everything shakes out in court.
Expect Indiana to privately cut loose committed recruit Bud Mackey in the coming days or weeks.

A source close to the situation told ESPN.com that Indiana will withdraw the commitment to Mackey, regardless of the outcome of his case that includes trafficking a controlled substance.

Indiana is obviously fairly confident that it will land another point guard without an issue. Taking a player who has this charge wasn't worth it to the Hoosiers.
I can't say I am surprised by this, but I was still optimistic that IU would allow Mackey to have his day in court before making any final decisions.
Obviously, the court of public opinion reigns supreme in this circumstance and understandably so. You simply cannot have a storied program like Indiana being associated with crack cocaine. So long Bud. We hardly knew ya.
Filed to: Andy Katz, Bud Mackey