Should Bud Mackey be on the court?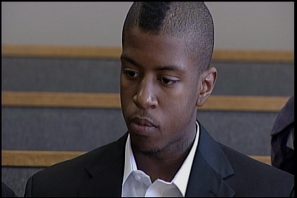 The saga of Bud Mackey has taken another twist. The former IU commit has enrolled at Harmony Prep in Cincinnati and is suiting up alongside IU signee Terrell Holloway.
Nevermind pending felony charges on trafficking in a controlled substance within 1,000 yards of a school. You would think laying low and following court ordered instructions to stay in Georgetown, Kentucky would be at the top of Mackey's priority list.
Instead, he's already talking about his future in college (he likes Cincinnati), flirted with transferring to Redan in Atlanta, Georgia and most recently, a Scott County judge ruled that Mackey could stay in Cincinnati and attend Harmony.
I'm all for Mackey going to school and working on getting his life back together. What I'm not for is Mackey getting back on the court so soon. Basketball should be the last thing on his mind. His case will be heard by a grand jury next month and an indictment could follow that hearing.
So I ask you, ITH faithful, should Bud Mackey be playing basketball given his legal woes? Should a school (obviously not Indiana) take a chance on him? Your thoughts in the comments, por favor.
Filed to: Bud Mackey