Inside the Hall turns one year young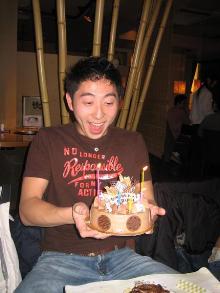 A year ago today, Big A tossed down the very first post on this here blog. (About Bud freakin' Mackey of all people.) Since then, it's been about the most gosh darn eventful time in IU's recent — or perhaps entire — history. To wit: we had Mackey and crack, Sampson phone problems, Senderoff's resignation, players getting suspended, and suspended, and suspended, Sampson phone troubles again, his dismissal, the Dakich take over, the team collapsing under the weight of it all, Dakich booting Bassett and Ellis, Tom Crean taking over, the whole damn team leaving and Crean recruiting everyone you haven't heard of under the sun. (We can all breath now. Phew.)
If you were to say we expected even a tenth of this stuff to go down, we would not have believed you. (This is how these things always go, it seems.) But hey, it was fun to cover and blog about. Sure: we would have loved for IU to storm their way to the Final Four, for Eric Gordon, D.J. White and Kelvin Sampson to cut down the nets in San Antonio, but things do not always go as we would have hoped.
Without confirming with E — though I know I don't need to — the reason this site has garnered any amount of success is because of Big A. The guy lives and breathes this blog and he churns out the posts day in and day out. Myself and E are tied up with other writing endeavors outside of the real jobs (I'm also incredibly lazy); without Big A this site ceases to exist.
Lastly, we want to thank each and everyone of you. Without the comments, the visits, the feedback and the tips, we wouldn't be nearly as enthused about the site, and what the future holds for it. To the commenters who have been here since the start, (hi Kelin and Jamie!) we thank you. To those that joined along the way and have made a community out of this place, we thank you.  We hope we've done a good job with year one; we look forward to year two.
Go Hoosiers.
Filed to: Bud Mackey, D.J. White, Dan Dakich, Eric Gordon, Kelvin Sampson, Thank You Readers, Tom Crean