Report: Armon Bassett and Jamarcus Ellis dismissed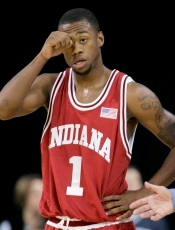 Update: J.D. Campbell confirms Armon Bassett and Jamarcus Ellis have been dismissed from the team.
According to a report by Terry Hutchens of the Indianapolis Star, interim head coach Dan Dakich has dismissed Armon Bassett and Jamarcus Ellis from the team. Here is the rationale, according to Hutch:
Both players missed two prearranged meetings last week. They were told if they missed the second meeting, they would be kicked off the team.
There has to be more to this story than missing a meeting. Both players were suspended at one point this past season for undisclosed reasons. As a fan, I must say I'm not real comfortable with an interim head coach kicking players off the team. At the same time, the players do need to listen to Dakich as long as he is in charge. The soap opera that is Indiana basketball seems to be getting worse as the days go by. Someone, please stop the bleeding.
Update: A report tonight by the Hoosier Scoop says both players hope to return to the program when a new coach is named.
More from ITH:
Reminder: Registration now required to post comments. Click here to sign up for free. You'll get access to avatars, the ability to rate comments and gain clout points based on the rating of your comments by other users.
Filed to: Armon Bassett, Jamarcus Ellis