ITH Super Happy Fun Time Coaching Search: Anthony Grant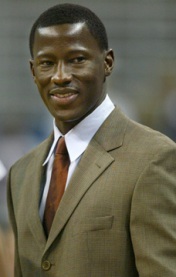 Kelvin is out the door and Dan is not our man, so that can only mean one thing: It's coaching search time! Here's a look at the candidates that could land in Bloomington. We'll give you the pros, the cons and the bottom line. This afternoon: Virginia Commonwealth's Anthony Grant.
Pros: The 40-year old Grant spent 10 years with Billy Donovan as an assistant before accepting the head coaching gig at VCU in April of 2006. At Florida, he was Donovan's right hand man and was the lead recruiter for many of the players who led the Gators to back-to-back titles. In two seasons at VCU, Grant is 52-14 and in 2007, his Rams reached the second round of the NCAA Tournament with a win over Duke. Grant would be a long-term solution and his prowess in the recruiting world could help return top talent to Bloomington. In his time at Florida, he helped bring nine McDonald's All-Americans and four first round NBA draft picks into the program.
Cons: Like some of the other candidates we've profiled, Grant's lack of head coaching experience above the mid major level might be frowned upon by the "blue ribbon" committee. On the surface, he doesn't seem to have any ties to the state of Indiana or to the Big Ten having played at Dayton and having coached his entire career in Florida and on the east coast. When LSU got rid of John Brady in February, it seemed to be a foregone conclusion that Grant would land in Baton Rouge, but LSU may be heading in a different direction with its search opening up the possibility for IU interest.
Bottom line: If IU decides to go with an up and coming coach, they'd be hard pressed to find a better resume than Grant's. He was an instrumental part of Florida's back-to-back national championship and helped Donovan build the program from relative obscurity. Most speculation has him ending up in the SEC, but with South Carolina moving towards Darrin Horn and LSU interest possibly waning, Grant could get a look and some consideration from the decision makers in Bloomington.
More from ITH:
Reminder: Registration now required to post comments. Click here to sign up for free. You'll get access to avatars, the ability to rate comments and gain clout points based on the rating of your comments by other users.
Filed to: Anthony Grant