Bud Mackey: "It's all talk"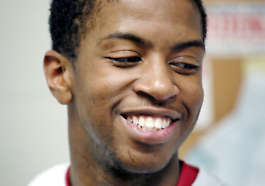 It's never particularly easy to lock up top talent from another state. It's even harder when that state has a university rich with basketball tradition and a bunch of crazed lunatics fan base that treats its basketball team like royalty.
That's why it was a bit surprising when Bud Mackey, from Scott County in the Bluegrass state, committed to the Hoosiers in October of 2006. At the time, Mackey was relatively unknown on the national recruiting scene and was still growing into his 6'5″ frame.
Fast forward to June of 2007: UK is no longer coached by Tubby Smith, whom Mackey wanted nothing to do with. They hire ace recruiter Billy Gillispie. Mackey attends UK's elite camp. The Lexington Herald Leader publishes a story suggesting that Mackey may still be looking at Kentucky.
Meanwhile, IU fans wonder if they could have another Eric Gordon type recruiting saga on their hands. Only this time, IU would be playing the role of Illinois.
Worry no longer.
Mackey is solid with IU and plans to be a Hoosier according to comments he made earlier today to The Courier-Journal's recruiting guru, Jody Demling.
When I asked him about all the chatter about his commitment, Mackey just looked at me and smiled as he said "It's all talk. Just talk."
Score this as a major recruiting win for Kelvin Sampson. And a big loss for Big Blue Nation.
Filed to: Billy Gillispie, Bud Mackey, Tubby Smith