Elston upbeat while progressing from knee surgery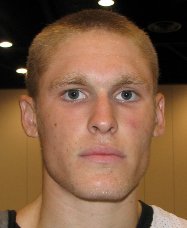 Derek Elston, the first player to commit to Indiana's 2009 class, suffered a torn miniscus in his left knee and underwent surgery on May 22nd. While the injury has kept the Tipton senior-to-be sidelined, Elston remains upbeat and he talked to Inside the Hall about the rehab process, a timetable for his return and his future in Bloomington.
"I go to the hospital Monday through Wednesday every week. I do certain types of leg lifts and next week I should be doing some running in the pool," Elston said. "Now that it's been a while (since the surgery), sometimes I'll put my crutches down and get some shots in to keep me occupied. It gets kind of rough out there. I can't sit there and watch, I hate knowing that I can't do anything about it."
As far as his return to the floor, Elston will miss the rest of the AAU season, but hopes to be at full strength this winter.
"They've said a few things. Late November, somewhere around the beginning of the season, that's when I should be at full health. In terms of when I get to go and start doing things where I don't have to use my crutches, I'm not really sure. By next Monday, I should be off my crutches completely so we may start doing some stuff then."
Although Elston committed to Indiana under a different coaching staff, he's built a strong relationship with the new staff and his recent conversations with Tom Crean have centered around his health rather than basketball.
"After my surgery, we really haven't talked about basketball. He's told me he can't wait for me to come down there and play, but really he's just concerned about getting me healthy," Elston said. "We actually have a tournament (in Bloomington) the 28th and 29th, so I'm just going to go down there and hang out with the guys."
Elston is also excited about his future teammates who have joined him in the 2009 class: Bobby Capobianco, Jordan Hulls and Maurice Creek.
"I've played against Jordan and Bobby in AAU and those guys are so good. Bobby is a big, big kid and Jordan, I just watched him play in an All-Star game and he's amazing. Maurice, I've talked to him a bit and we've just talked about playing with each other and things like that."
Filed to: Derek Elston