New sanctions to be imposed on IU coaching staff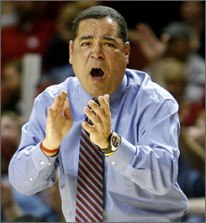 The following press release was issued by Indiana Media Relations:
The Indiana University Department of Athletics today announced that a series of recruiting sanctions and corrective actions are being imposed on men's basketball coach Kelvin Sampson and his staff.

The new limitations on recruiting efforts, which include loss of a scholarship next year, were imposed by Athletics Director Rick Greenspan after he determined that Sampson and his staff last season had exceeded certain NCAA limitations on telephone calls to prospective student-athletes or their representatives.

"We determined that the impermissible calls occurred because some staff members did not fully comply with the sanctions they were operating under," Greenspan said. "We are addressing that problem, and we are voluntarily extending these limitations on recruiting for another season to ensure that the full effect of NCAA restrictions on recruiting is realized."

Greenspan also announced that Sampson has voluntarily agreed to forego a scheduled $500,000 raise during the 2007-08 season, and that assistant coach Rob Senderoff will be prohibited for a year from making recruiting phone calls and from recruiting off campus. In addition, Senderoff will receive no bonus this season or salary increase next year.

This summer, the Athletic Department's routine review of telephone records compiled by assistant coaches turned up evidence suggesting that some calls contrary to the sanctions may have been made.

Greenspan then commissioned the Collegiate Sports Practice of the Indianapolis law firm of Ice Miller to conduct a full and independent investigation.

The review, which took more than two months, determined that on about 10 occasions, an assistant coach initiated three-way calls that connected Sampson into an on-going recruiting conversation with prospective student-athletes, their parents or coaches.

In addition, the review indicated that of all recruiting calls made during the year, the majority of those that were found to be contrary to the sanctions were made by Senderoff. Only two calls were attributed to Sampson.

"Those were just a small fraction of the thousands of allowable phone calls that were made and received during this time," Greenspan said. "However, Indiana University expects full and complete compliance with all NCAA rules and sanctions. That is why I am imposing a new round of recruiting restrictions and sanctions on Coach Sampson and his staff. I want to send a strong message that nothing less than complete compliance with the NCAA is the standard by which we operate."

The full Ice Miller investigation report has been provided to the NCAA's Committee on Infractions for review. Because 35 of the calls by assistant coaches were also determined to be in violation of NCAA limits on the number of times an athlete may be called, a separate report detailing these instances is being prepared for the NCAA's enforcement staff.

"Based on all of the evidence gathered in our investigation, we have taken the action that we deemed as appropriate and have reported that to the NCAA," Greenspan said.
Obviously this is not the type of news Hoosier fans were looking for to start off the season. A press conference will take place later today where more information should be divulged.
In the meantime, here are some links to coverage of this story:
– IU fines, punishes Sampson for illegal calls {Indy Star}
– The evolution of the Sampson story {The Hoosier Scoop}
– Athletic department sanctions Sampson, staff {Indiana Daily Student}
Filed to: Kelvin Sampson, NCAA allegations, Rick Greenspan, Rob Senderoff