Tom Crean the choice for Indiana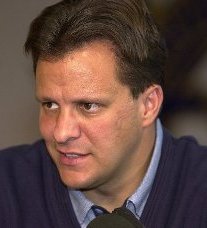 Andy Katz of ESPN broke the story this afternoon and its a done deal: Tom Crean will be the next head coach at Indiana. An Indiana trustee also confirmed Crean's hiring to the Associated Press as did Director of Media Relations J.D. Campbell.
He will be officially announced at an 11 a.m. press conference Wednesday morning in the Hoosier Room.
Crean, 42, just completed his ninth season as the head coach of Marquette. In 2003, behind the play of Dwyane Wade, the Golden Eagles went to the Final Four and lost to eventual runner-up Kansas. This past season, Marquette beat Kentucky in the first round before falling to Stanford.
Before leaving for Marquette, Crean was Tom Izzo's top assistant at Michigan State and recruited many of the players that eventually cut down the nets in Indianapolis in 2000 for the Spartans. He also spent time as an assistant at Pittsburgh and Western Kentucky. He is a 1989 graduate of Central Michigan.
While it's not yet known if Crean will bring his current staff to IU, a likely addition would be his top assistant at Marquette, former Ball State head coach Tim Buckley. Buckley was originally on Crean's staff at Marquette before coaching at Ball State for six seasons. Buckley then went to Iowa as an assistant to Steve Alford before returning to Marquette.
One interesting nugget on Buckley is that he started Marquette's interest in Wade after discovering him at an AAU Tournament. Wade was the sixth man on his AAU team when Buckley first saw him play and played a big part in bringing him to Marquette.
For PostmanE's reaction on Crean's hiring head over to The Dagger on Yahoo! Sports…
Related coverage:
Filed to: Tom Crean