ITH Super Happy Fun Time Coaching Search: Tom Crean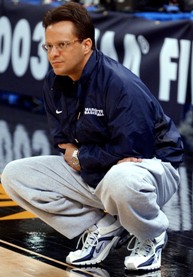 Kelvin is out the door and Dan is not our man, so that can only mean one thing: It's coaching search time! Here's a look at the candidates that could land in Bloomington. We'll give you the pros, the cons and the bottom line. This morning: Marquette's Tom Crean.
Pros: Crean's Big Ten ties run deep as he was the associate head coach at Michigan State prior to his first head coaching job at Marquette. He helped Tom Izzo recruit many of the players that cut down the nets in 2000 in Indianapolis. In 2003, Crean's Marquette team crashed the Final Four riding the hot hand of Dwyane Wade. He also developed current NBA players Steve Novak and Travis Diener. A popular knock on Crean was that he couldn't win in March without Wade, but he advanced to the second round this year with a win over Kentucky. After two NIT seasons in the post-Wade era, Marquette has been to three straight NCAA Tournaments. His coaching tree is growing as four former assistants have moved on to head coaching jobs including Darrin Horn of Western Kentucky. At just 42 years of age (today is his 42nd birthday), he's young enough to be a long-term solution.
Cons: As I mentioned above, he's never won big in the NCAA Tournament without Wade. He's 1-4 in March minus the Miami Heat star. His contract could become an obstacle — it runs through 2016-2017 — and he's paid well over $1.7 million annually making him one of the highest paid coaches in the land. Crean is a Michigan native and his dream job is probably in East Lansing, but unless Izzo bolts, that job is unlikely to open anytime soon.
The bottom line: Crean's price tag will likely be too high for Indiana to make him a serious candidate. For the kind of money he'll command, IU could likely snag a bigger name that would generate more buzz for the program. Still, he's a dark horse candidate worth mentioning because he's a proven winner that recruits the state of Indiana hard.
This afternoon, PostmanR will break down Tony Bennett of Washington State.
Reminder: Registration now required to post comments. Click here to sign up for free. You'll get access to avatars, the ability to rate comments and gain clout points based on the rating of your comments by other users.
Filed to: Tom Crean