Mackey: "My future is in someone else's hands"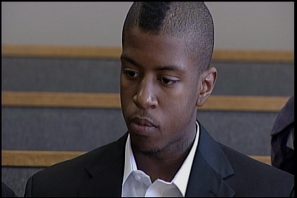 Speaking on the record for the first time since last September when he was arrested for possession of crack cocaine at Scott County High School, former Indiana recruit Bud Mackey tells Jillian Ogawa of The Lexington Herald Leader that he's sorry for what happened:
"All the people that was behind me, I let them all down, It's like they wanted it more for me than I wanted for myself, and that really doesn't matter unless I wanted it for myself."

Mackey said he has always had a supportive family who encouraged him to do well in school. But, reflecting back, he started taking missteps last July.

He met up with a couple of old friends "and their future was kind of rocky," he said. "I don't know what I was thinking. I just thought it would never happen to me."

"It's just something real foolish," he continued. "Now my future is in someone else's hands."

Mackey hopes that others will learn to not "get caught up with the wrong crowd," Mackey said. "Stay far, far away from drugs because it's really not worth it. … If you end up messing around with drugs and end up being put in here, you'll be in the same situation I am in. Your life is in someone else's hands."
It's good to see Mackey taking accountability for his actions, but it's unfortunate that it had to come to this. With what went down with Kelvin Sampson and how involved Mackey was with the excessive phone calls, it's unlikely that he would have ever made it to Bloomington. However, after talking to this young man and also watching him play, it's sad to see someone with such god given talent throw it all away. Ultimately, Mackey will get another chance somewhere down the road and hopefully he makes the best of it.
Previously on Bud Mackey:
Filed to: Bud Mackey