Bud Mackey's plea: Not guilty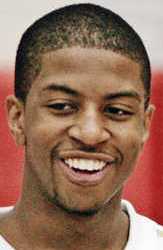 C. Ray Hall of the Louisville Courier-Journal reports from Georgetown, Kentucky:
One of Kentucky's top high school basketball players plead not guilty to felony drug charges today in District Court. Jonathan "Bud" Mackey, a 6-foot-4 senior guard at Scott County High School, faces two charges: trafficking in a controlled substance — cocaine — and trafficking in a controlled substance within 1,000 yards of a school.

At today's arraignment, Judge Mary Jane Phelps set Mackey's preliminary hearing for Nov. 6.

Mackey, who wore a dark suit and white shirt, was silent as he stood beside his attorney, Jerry Wright. Both declined to comment upon leaving the courthouse. Several reporters followed Wright into the parking lot. When one asked how the case could affect Mackey's basketball career, Wright said nothing and got into his truck to leave.
We all know that Mackey won't be a Hoosier, but this story still has my interest because I'm hopeful this young man will get his life turned around. There are rumblings that he may withdraw from school at Scott County, but nothing official. What we do know is that he has not been attending school the past few weeks and could be expelled pending the outcome of this case.
Filed to: Bud Mackey