Ebanks, Mackey land in Rise Magazine Top 50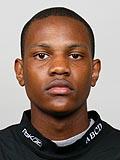 Rise Magazine recently announced their list of the top 50 players in the class of 2008. And luckily for Hoosier fans, there's some IU flavor prominently displayed.
Devin Ebanks checks in as the No. 15 player in the class and Bud Mackey is the No. 41 player.
Washington (IN) big man Tyler Zeller, who visited IU this past weekend, is slotted in at No. 18. Kevin Jones, who will reportedly visit IU on October 12 for Hoosier Hysteria, comes in at No. 37.
Rise will release full biographies for the top 50 players in a publication called Hardwood that will be released in late October.
Also of note, here are the top five players on the list: Samardo Samuels (Louisville), Greg Monroe (undecided), Tyreke Evans (undecided), Jrue Holiday (UCLA) and Brandon Jennings (Arizona).
{HT: C-J Recruiting Blog}
Filed to: Bud Mackey, Devin Ebanks, Kevin Jones, Tyler Zeller