Dave Telep talks Ebanks, Mackey and Roth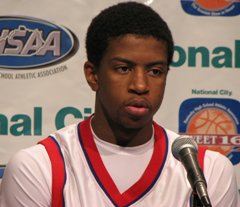 As you know, Inside the Hall recently caught up with Scout.com National Recruiting Director Dave Telep to talk IU recruiting. We asked Dave for the lowdown on the 2008 recruiting class and here's what he had to say.
On Devin Ebanks:
"Ebanks is special. He's 6'7″ or 6'8″, can handle the basketball, he plays on the perimeter and he's just a really, really big wing player. He has a chance to be a special player that can make money at this game."
On Bud Mackey:
"He's really an intriguing prospect. He hasn't defined himself as a point guard or a shooting guard just yet. He's a talented kid. He's got one of those live, wiry bodies. He's got a big ceiling to get better and he's pretty good. As good of a player as he is, he's probably the same level prospect.
On Matt Roth:
"I've always thought that college basketball tries to imitate and copy each other when people have success. I think everybody looked at Lee Humphrey for Florida the last two years and if you were a good team who figured that you could make a run in the NCAA Tournament, at that point you looked at Lee Humphrey and said 'we've got to get a guy like that'. Matt Roth was brought in to make three-point shots for the Indiana Hoosiers. Preferrably for them in the NCAA Tournament. I think that's what his role will be."
(Editor's Note: Tom Pritchard is not included because we talked to Dave before he committed to IU.)
Filed to: Bud Mackey, Dave Telep, Devin Ebanks, Matt Roth