Bud Mackey is a free man (for now); Jordan Crawford down to five schools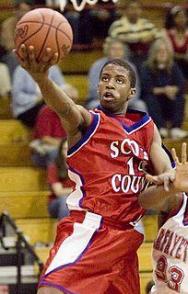 Bud Mackey, who lost his opportunity to attend IU after being caught at school with crack, is a free man once again. WKYT in Lexington, Kentucky reports that Mackey was released at 12:01 a.m. on Thursday:
Former Scott County High School basketball star Bud Mackey is out jail, but not out of trouble. Workers at the Scott County Jail say Mackey was released at 12:01 a.m. Thursday.

He served 60 days for violating his bond. He's been in trouble since being arrested on drug charges.

A judge says Mackey must now live with his grandfather in Lexington and get a full-time job or work toward his GED. His trial on drug charges begins in August.
The most unbelievable part of the whole story is that Mackey's name still comes up as one of the "best available" players remaining on the board for 2008 by a couple different recruiting services. I put Mackey's chances of ever suiting up at a legitimate DI school at less than 50 percent.
Switching gears a bit, Jordan Crawford has narrowed his list of schools to five and Kentucky isn't among the finalists. Jerry Tipton of The Lexington Herald Leader has the details:
Jordan is considering Xavier, Cincinnati, Texas, Oklahoma and Central Michigan. He's "leaning more than heavily" toward one of those schools, his mother Sylvia said.
The school that Mrs. Crawford is referring to is Xavier, reportedly the second choice for Crawford when he picked Indiana in November of 2006. He's expected to make his decision sometime this weekend.
Filed to: Bud Mackey, Jordan Crawford