That's A Wrap: Mike Woodson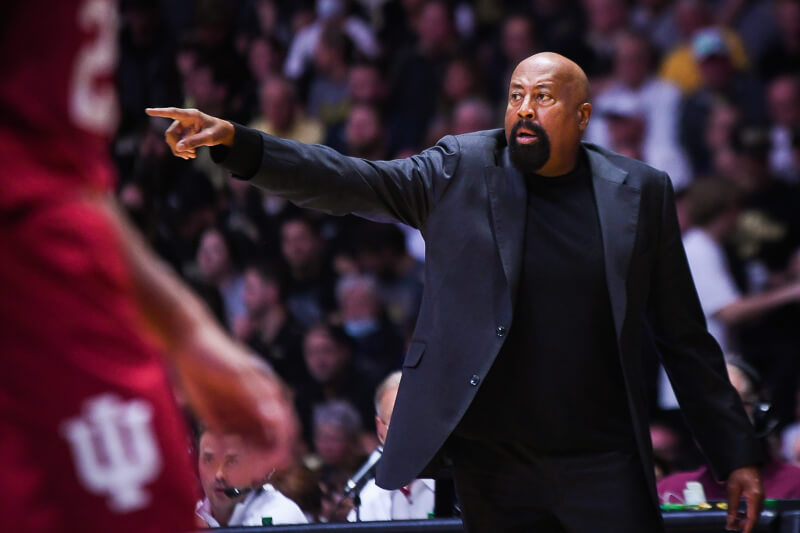 Welcome to "That's A Wrap," our recap of the 2021-2022 Indiana Hoosiers. Today we conclude our series with a look at Mike Woodson. 
Previously: Logan Duncomb, Tamar Bates, Anthony Leal, Trey Galloway, Jordan Geronimo, Khristian Lander, Trayce Jackson-Davis, Parker Stewart, Xavier Johnson, Michael Durr, Miller Kopp, Rob Phinisee, Race Thompson, Team Offense, Team Defense
Mike Woodson did not win the press conference.
There was no rah-rah attitude. No hucksterism or showmanship. No nervous energy.
There was just Woody. Cool. Collected. Poised. Unshaken by the moment. Sure of himself.
"It you're interested in Mike Woodson, either I get on a plane or you get on a plane to come see me," Woodson said in his opening remarks as Indiana coach on March 29, 2021, rejecting the concept of getting on a Zoom video call with athletic director Scott Dolson to interview for the position.
Dolson made the trip the next day.
"Scott, I thank you for making that trip to come see me," Woodson added.
The new coach had work to do early. Six Hoosiers (Race Thompson, Jordan Geronimo, Khristian Lander, Parker Stewart, Armaan Franklin and Al Durham Jr.) were in the transfer portal. There were shooting needs. An upgrade at point guard could help. And then there was the matter of Trayce Jackson-Davis. It was presumed he'd head to the professional ranks after the conclusion of the 2020-2021 season. But Woodson quickly changed his mind.
"I was almost dead set on entering the draft and hiring an agent," Jackson-Davis said at the time. But after meeting with Woodson and hearing the plan to improve his game and some thoughts on the team, Jackson-Davis was intrigued. He really liked Woodson. But he still needed to convince his parents. So Jackson-Davis asked his dad to come to Bloomington to meet with Woodson. According to Jackson-Davis, the talk lasted two hours and his dad asked for five minutes alone with him after the meeting.
In that time, dad said to son: "You're staying."
The dominos continued to fall after that. Stewart had already announced his return, but Lander, Geronimo and Thompson soon followed suit. Xavier Johnson transferred in from Pittsburgh for an upgrade at point guard. Miller Kopp joined from Northwestern to shore up the outside shooting. And the Hoosiers landed 5-star Tamar Bates after he de-committed from Texas.
Woodson not only averted a roster crisis when he took over the job, but he added talent to boot. It was an early win and went a long way to comfort a fanbase that was in wait-and-see mode in regards to the hire.
Early and often, he preached that Indiana's defense was ahead of the offense. That proved true on the court. Woodson's work with Indiana's D was impressive in his first year at the helm. Gone was the packline and in came a man-to-man system that added more on-ball pressure and had Indiana executing well with positioning. Woodson also unleashed Jackson-Davis into a rim-protecting shot-blocker. By season's end, the junior's block percentage of 8.4 was 47th best in the country. Indiana's defense also finished 24th in the country in adjusted defensive efficiency and first in Big Ten play. The last time Indiana had the most efficient defense in conference play? You have to go back 20 years ago to the 2001-2002 season, when Mike Davis led the Hoosiers to the national championship game.
The offense was another story. Until a late-season shift, Johnson's play was inconsistent, Jackson-Davis played too much back-to-the-basket and there wasn't enough variety and movement. Shots from 3-point range were used sparingly and didn't go in at a high clip. Indiana's offense finished as the 10th-most efficient in conference play and only 95th in the country in adjusted offensive efficiency. Woodson seemed a little stubborn to change things up as the losses mounted in February, but as he kept working with Johnson to improve his pick-and-roll play, things finally shifted in a positive direction for the offense in the final stretch of the season.
Above all, Woodson instilled a culture of love and accountability. When he went back to Madison Square Garden less than a month after taking the Indiana job, his former Knicks players embraced him like a close family member they hadn't seen in years. It was a sign of things to come at Indiana, perhaps no more apparent than when Rob Phinisee went off for 20 points, including the game-winning 3-pointer, in a win against Purdue on Jan. 20.
Some encouragement from Woodson before the game seemed to inspire Phinisee.
"He's had a tough go at it in the past," Woodson said at a media availability before the game. "I'm just trying to get him to forget what happened in the past. You're playing for Coach Woodson now, and Coach Woodson loves you and I'm in your corner and I'm saying it's okay to go do your thing, because I see something maybe in him that he probably doesn't see in himself."
Woodson also wasn't afraid to hold his players accountable. When five players broke curfew in Evanston before a game against Northwestern on Feb. 8, he suspended all of them. Indiana ended up with no true point guards that night and lost a winnable game against the Wildcats as a result. It was the second loss in a five-game February skid when the Hoosiers' season appeared to be getting away from them.
But Woody and his team continued to stay the course. A miraculous comeback against Michigan in the Big Ten tournament followed by a gritty win against Illinois helped Indiana reach the NCAA tournament's first four. The Hoosiers then beat Wyoming before an insane travel schedule and five-games-in-eight-days stretch had them gassed against St. Mary's, resulting in Indiana's worst-ever loss in the tournament.
After the season concluded, Woodson made the decision to let go of assistant Dane Fife after things just weren't working out there. Optics-wise, it was a tough look firing a former Indiana player. But Woodson made the move he felt best. After one year at the helm, with some learning from others under his belt, this is now firmly Mike Woodson's team and program.
Bottom Line: It wasn't always a given, but Woodson got Indiana back to the NCAA tournament this season and had the Hoosiers playing their best basketball of the season in March. It broke a tournament drought and helped him achieve reasonable expectations in year one. Woodson is a man of high character and a strong reputation. He commands respect and shows you love. He'll hold you accountable. He'll coach you up, even if you don't always like the style or the message. All this, mixed with his NBA background, is so far resonating with today's players in the NIL and transfer portal era. Woodson has two 5-stars coming in next season between Jalen Hood-Schifino and Malik Reneau. They're the highlights of the top recruiting class in the Big Ten and one that's fifth in the nation.
Quotable: "I really just think, honestly, with Coach Woodson, it's accountability. It's all about family. It's all about us as students and athletes second, honestly. He puts a really big emphasis on that. He's almost like our dad in that sense where we can come to him for a lot of things, and he's going to help us out and do whatever he needs to do. Overall I've been blessed playing for him." — Jackson-Davis before the St. Mary's game
Filed to: Mike Woodson