That's A Wrap: Team Defense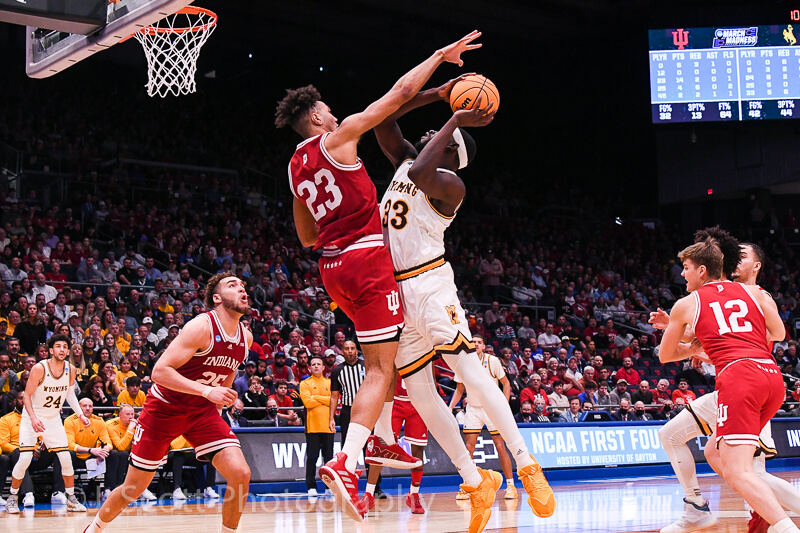 Welcome to "That's A Wrap," our recap of the 2021-2022 Indiana Hoosiers. Today: team defense.
Defense (35 games): Adjusted efficiency: 92.9 (24th), Def. eFG%: 46.2 (27th), TO%: 17.7 (219th), Def. 3PFG%: 33.0 (137th), Def. 2PFG%: 44.0 (10th), Opponent Free Throw Rate: 30.7% (194th), Opponent OR%: 25.2 (64th)
Previously: Logan Duncomb, Tamar Bates, Anthony Leal, Trey Galloway, Jordan Geronimo, Khristian Lander, Trayce Jackson-Davis, Parker Stewart, Xavier Johnson, Michael Durr, Miller Kopp, Rob Phinisee, Race Thompson, Team offense
The foundation for Mike Woodson's first Indiana team was defense.
Woodson admitted in the preseason that he had spent more time working with his team on defense than offense. That put the defense ahead of the offense early in the season and as the schedule played out, it became clear that the Hoosiers would win by locking opponents up.
The Hoosiers began the season 6-0 and in three of those contests, their opponent failed to hit the 50-point mark. Indiana abandoned the packline approach deployed by Archie Miller, which opened up Trayce Jackson-Davis and Race Thompson to contest more shots in the paint. Having that length and aggressiveness at the rim paid huge dividends for Indiana's 2-point field goal percentage. Hoosier opponents made just 44 percent of their 2s on the season, which was 10th best nationally. Xavier Johnson also proved to be a major upgrade defensively in the backcourt as his in-your-face style often got under the skin of opponents.
But even as Indiana entered the meat of the Big Ten schedule at 10-2 overall, the program's defensive improvement was still an open question. Were the Hoosiers for real defensively? Or were their gaudy numbers early in the season built against a lackluster non-conference schedule?
Indiana answered that question relatively quickly in early January.
In a 67-51 win over Ohio State at Assembly Hall on Jan. 6, the Hoosiers stifled one of the nation's best offenses for a full 40 minutes. The Buckeyes entered the game with the nation's 7th best offense, but managed to score just .754 points per trip on Branch McCracken Court. Ohio State never got comfortable in the blowout loss and shot only 32 percent on 2s. If anyone was looking for a statement that Indiana was for real on defense, that performance was it.
As the season moved along, it became clear the Hoosiers needed to defend well to win. The offense was inconsistent, which made it imperative that Indiana showed up defensively to compete against the upper echelon of the conference.
After holding Purdue under a point per possession in a 68-65 win in Bloomington on Jan. 23, Michigan marched into Assembly Hall and put up 1.21 points per trip on the Hoosiers, a season-high at the time. As the losses piled up in February, the defensive numbers showed that Indiana was simply not getting the job done on that end of the floor. The Hoosiers went 2-5 in February and five of their seven opponents scored more than a point per possession.
Despite the late-season malaise, Indiana still ended the regular season with some incredible defensive numbers in league play. The Hoosiers were first in the conference in points per possession allowed at 1.008. They were also second in effective field goal percentage defense, third in 2-point field goal percentage defense and fourth in opponent turnover percentage.
At 18-12 overall and its NCAA tournament hopes hanging by a thread, Indiana saved one of its best defensive performances for the second half of its Big Ten tournament opener against Michigan on March 10. The Hoosiers held Michigan to only 28 second half points and erased a 17-point deficit to stun the Wolverines, 74-69. A day later, Indiana held Illinois under a point per possession to secure its 20th win and its first berth in March Madness since 2016.
The Hoosiers advanced past the NCAA tournament First Four game with a 66-58 win over Wyoming. The catalyst in that win? Defense. The Cowboys scored only .88 points per trip. By the time Indiana got to its next game, a round of 64 matchup against Saint Mary's in Portland, it was clear the volume of games in a short period of time had set in. Indiana's defense buckled and had its worst performance of the season in the final game of the season, allowing 82 points and 1.21 points per trip to the Gaels.
Bottom Line: What Woodson and the Hoosiers were able to accomplish was impressive for a first-year coach in the Big Ten. Indiana had the league's best defense despite not having a ton of athleticism on the wings. Woodson allowing Jackson-Davis to roam more freely was a game-changer and helped the Hoosier big man earn all-defensive team accolades in the conference. If Indiana can maintain this level of play defensively moving forward, it should be in the mix for an NCAA tournament bid every season, which is what the program is desperately trying to get back to.
Quotable: "Listen, I played for a great coach in Bob Knight and the one thing he taught me was defense wins games. The offense is not going to be there every night, but if you can put a good defensive system in place, you put yourself in a great position to win every game, you going to be in every ballgame, and that's how we've been all season." – Woodson after Indiana's win over Illinois in the Big Ten tournament.
Filed to: