6-Banner Sunday: Non-conference schedule nearly complete as regular season nears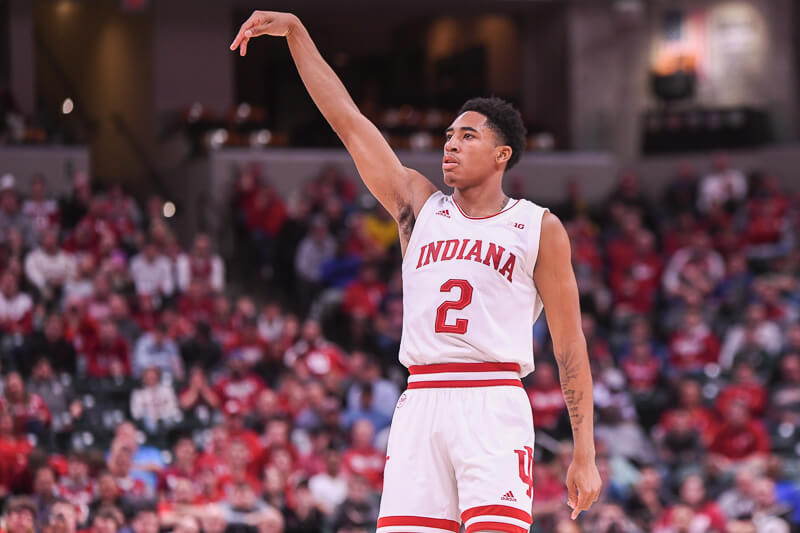 6-Banner Sunday is Inside the Hall's weekly newsletter in partnership with The Assembly Call. More than 7,500 Indiana fans receive the newsletter each week. In addition to appearing each week on the site, you can also opt to receive 6-Banner Sunday by email. A form to subscribe via email is available at the bottom of this week's 6-Banner Sunday.
Welcome to another edition of 6-Banner Sunday, a joint production between The Assembly Call and Inside the Hall where we highlight the five most essential IU basketball stories of the past week, plus take a look at how the other IU sports programs are doing.
We're less than three weeks away from the start of the college basketball season and many teams' schedules are finally taking shape. It was announced this week that Indiana will open the season on Nov. 25 against Tennessee Tech at Assembly Hall.
Jon Rothstein reported that the Big Ten hopes to release its conference slate next week. There has also been discussion about having teams play 3-5 conference games in December to allow for more scheduling flexibility later in the season.
More preseason predictions are heating up as Ken Pomeroy released the first edition of his national rankings. Sophomore forward Trayce Jackson-Davis also added another preseason award to his rapidly growing collection.
In recruiting news, it was reported that DePaul has entered the mix for 2021 Indiana target Aminu Mohammed. With Trey Kaufman committing to Purdue last week, the recruitment of Mohammed becomes even more important. It was also reported that the Indiana coaching staff met virtually with 2022 forward Tarris Reed this week after recently extending him a scholarship offer.
You can listen to this week's edition of Assembly Call Radio here.
• Indiana to open the season against Tennessee Tech
• Trayce Jackson-Davis touted on watchlist for Karl Malone award
• KenPom lists Indiana in preseason top-30
• Former Hoosier Jordan Hulls welcomes newborn daughter
• Inside the Hall continues IU player season outlooks
• Hoosier Sports Roundup
Banner #1
Indiana to open the season against Tennessee Tech
The Hoosiers will have one tune up game before they travel to Asheville, North Carolina for the Maui Invitational on Nov. 30-Dec.2. Indiana is set to host Tennessee Tech in Assembly Hall on Nov. 25, according to a schedule posted by the Golden Eagles this week. The game time hasn't been announced yet.
With the limited nonconference slate this season, Tennessee Tech will be one of the few games that Indiana plays against low-tier opponents. The Golden Eagles finished last season with a 9-22 overall record and 6-12 mark in the Ohio Valley Conference. They averaged 65.5 points per game, ranking 313th in the nation, while only shooting 41 percent from the field as a team.
This season, Tennessee Tech is projected to finish 10th in the OVC by the Blue Ribbon College Basketball yearbook. Indiana assistant Tom Ostrom worked under Tech head coach John Pelphrey at both South Alabama and Arkansas.
The schedule for the Crossroads Classic, as well as Indiana's final nonconference matchup, has yet to be released.
Banner #2
Trayce Jackson-Davis touted on watchlist for Karl Malone Award
The preseason accolades keep rolling in for Indiana sophomore forward Trayce Jackson-Davis.
Earlier this month, he was named as a Second Team Preseason All-American by both Stadium and CBS Sports. On Thursday, Jackson-Davis made the preseason watchlist for the Karl Malone Award. The honor, which originated in 2015, recognizes the country's top forward. Last season, Dayton's Obi Toppin was named the winner.
Alongside Jackson-Davis representing the Big Ten was Ohio State's Seth Towns and Wisconsin's Nate Reuvers. Other notable names on the list were Texas' Greg Brown and North Carolina's Garrison Brooks, both of whom Indiana could face in the Maui Invitational. LSU's Trendon Watford, the younger brother of former IU player Christian Watford, also made the cut.
There has been a buzz around Jackson-Davis entering this season. As a freshman last year, he averaged 13.5 points and 8.4 rebounds, along with 1.8 blocks per game. This season, in order for Indiana to make a run in March, Jackson-Davis will need to play at an All-Big Ten and All-American level.
"I think Trayce is more confident on the perimeter than he has been," senior Joey Brunk said over the summer. "I think he has improved with his right hand and he looks more comfortable with his right hand around the basket. I think that's a big thing for him to work on and improve. I still feel the same way about Trayce that the sky is the limit for him."
Banner #3
KenPom lists Indiana in preseason top-30
The Hoosiers came in at No. 26 in KenPom's preseason rankings, which was the eighth highest out of Big Ten teams.
Wisconsin the highest ranked squad (No. 7) in the league, followed by Ohio State (No. 10), Iowa (No. 12), Michigan State (No.15), Michigan (No. 17), Illinois (No. 18), Purdue (No. 25) and Rutgers (No. 27). Inside the Hall recently published a series of articles previewing each program.
Pomeroy touted Indiana's preseason offensive efficiency at No. 40 in the nation and defensive efficiency at No. 17. Last season, the Hoosiers concluded the year ranked No. 65 in offensive efficiency and No. 26 in defensive efficiency. Their overall ranking started and finished at No. 34 last season.
Tennessee Tech, Indiana's first scheduled opponent this season, is ranked No. 312. IU will then open the Maui Invitation against Providence, who came in at No. 63, according to Pomeroy. Later, Indiana will take on Florida State in the Big Ten-ACC Challenge, with the Seminoles checking in at No. 19.
Banner #4
Jordan Hulls welcomes newborn daughter
Former Indiana basketball player Jordan Hulls added a new member to his family last week. Hulls announced the birth of his daughter Margaret Louise Hulls in a post on social media.
"She and MaMa are doing great," Hulls said on Twitter. "We made the most out of our situation, as I was able to 'be there' via Facetime. Thanking God for this gift!"
Hulls, a Bloomington, Indiana native, played for the Hoosiers from 2009-13. Hulls made a total of 121 starts throughout his career, averaging 9.8 points, 2.7 assists and 2.3 rebounds per game. He was also a knockdown 3-point shooter, converting on more than 44 percent of his attempts from long range in his career.
Hulls even received congratulations from his former coach at Indiana Tom Crean.
"Congratulations to all of you Jordan," Crean wrote on Twitter. "You guys are an incredible couple who are tremendous parents!! We are happy for you."
Banner #5
Inside the Hall publishes IU player previews
Inside the Hall continued its series of Indiana player previews for the upcoming season. Previously, an in-depth breakdown of freshmen Khristian Lander, Anthony Leal and Jordan Geronimo were all released.
This week, Inside the Hall published outlooks for freshman Trey Galloway, sophomores Armaan Franklin, Trayce Jackson-Davis and Jerome Hunter, and junior Rob Phinisee.
Hunter has emerged as a potential breakout candidate this season for the Hoosiers. After sitting out the 2018-19 campaign due to a leg injury, Hunter was still adjusting to the college game last year in his redshirt freshman season. He averaged just 3.8 points and 2.1 rebounds per game. Although he didn't show a consistent jump shot last season, Hunter could provide a boost from behind the arc for the Hoosiers, who shot a dismal 32 percent from long range last season.
"We talked very early in the spring about being able to handle a more of a load, learning more in terms of being able to play inside and out," Archie Miller said about Hunter on Indiana's media day. "He embraced that, and since he has been back, he is back to being the old Jerome. He loves the game; he has a smile on his face."
Banner #6
Hoosier Sports Roundup
IU Football had a historic day, blasting Michigan 38-21 for its first win over the Wolverines in 33 years. Below are articles recapping the game:
• Pete DiPrimio recapped the game on iuhoosiers.com that included notes and quotes.
• The Indystar's Zach Osterman wrote how belief is changing IU's rugged past into a brighter future.
• The Hoosier Huddle's Amanda Pavelka focused on the dominance of the Indiana defense.
• Crimson Quarry's Mike Miller came up with three keys to IU's victory.
• Orion Sang of the Detroit Free Press had an article from the Michigan perspective.
Thanks for your continued support for The Assembly Call. We'll be back next weekend with a new roundup.
Now go enjoy yourself a 6-banner Sunday.
Tyler Tachman – Student Intern The Assembly Call
Filed to: