2020-2021 Player Profile: Armaan Franklin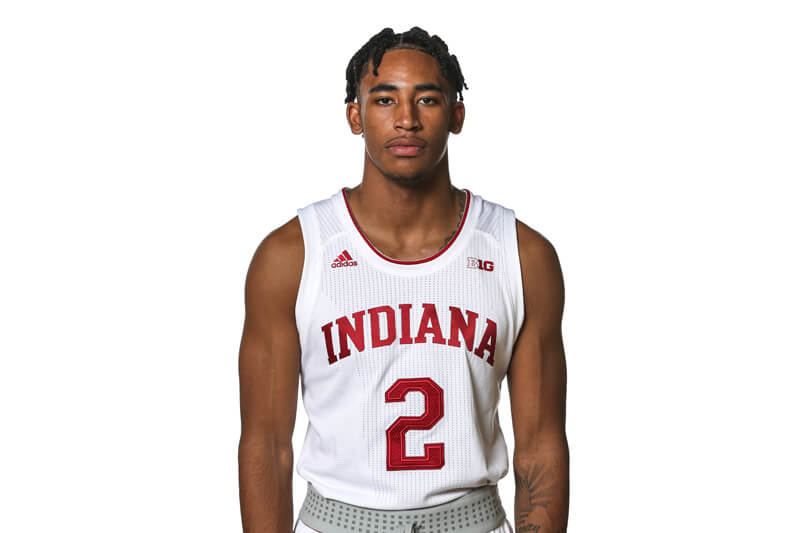 With the start of college basketball season scheduled for later this month, we've transitioned from our look at other Big Ten programs to our player-by-player previews of the 2020-21 Indiana roster. Today, our player profiles continue with a look at sophomore Armaan Franklin.
Armaan Franklin had no time to ease his way into college basketball last fall.
With Rob Phinisee slowed due to injury and Devonte Green sidelined for the first three games with an injury of his own, the Cathedral product unexpectedly found himself in the starting lineup for the Hoosiers as a freshman.
Franklin started the team's first nine games last season, which included an 80-64 beatdown of Florida State in the Big Ten-ACC Challenge on Dec. 3 at Assembly Hall. His numbers weren't great as a starter – five points (on 34.1 percent shooting), 2.6 assists, 2.2 rebounds in 21.7 minutes per game – but it was valuable experience against mostly lower-tier competition.
Once the competition stiffened and Phinisee and Green returned to their regular roles, Franklin's minutes dipped significantly. After the team's 84-64 loss at Wisconsin on Dec. 7, Franklin exited the starting lineup and averaged just 10.7 minutes per game for the remainder of the season.
The high moment for Franklin in his debut season came in a thrilling 62-60 win over Notre Dame in the Crossroads Classic on Dec. 21. Franklin came off the bench to score 17 points, including a pair of 3-pointers in the last three minutes.
It was an unexpected boost from a player who entered the game 4-of-27 on 3-pointers over the team's first 11 games.
"He can shoot it. He has just gotten off to a tough start. Sometimes that happens for all players, but in particular young players that can really steamroll them," Archie Miller said following that win. "He hasn't let it impact his attitude, and he hasn't let it impact his coachability. I think we finished the Nebraska game, talked at length about confidence, and he works at it every day, and when he shoots it, I think everybody on our team thinks he has a chance to make it."
As much confidence as Miller exhibited in Franklin's shooting ability following his heroics against Notre Dame, the reality of his impact as a shooter rests in the numbers he posted in total over 32 games last season.
Franklin shot just 26.6 percent from distance on 64 attempts as a freshman. He struggled inside the arc, too, making just 45.8 percent of his 2s and 61.5 percent from the free throw line. He wasn't alone in those struggles from the perimeter – Indiana shot just 32.6 percent on 3s as a team – but he would have played more minutes late in the season had he been able to connect at a higher clip.
What was encouraging about Franklin's debut season was his defense and the composure he exhibited early in the season while being thrust into a starting role. Miller makes no compromises on his insistence that his players defend and for the most part, Franklin showed himself capable of buckling down and helping his team earn stops.
As a sophomore, Franklin's role will be highly dependent on how he's able to differentiate himself from what has become a crowded backcourt situation in Bloomington.
Phinisee is back for his junior season and his health is not being mentioned as a concern to begin the season. Al Durham Jr., a starter for the majority of his first three seasons, is a team captain and a starter.
But beyond that, the Hoosiers welcome three freshmen in Khristian Lander, Anthony Leal and Trey Galloway, who will each challenge for minutes. Franklin will have the leg up in terms of experience and given how ambitious of a schedule the Hoosiers are expected to play, it won't be surprising to see Miller lean on Franklin to begin the season.
"Defense is a big thing for me," Franklin said recently. "I'm a good defender. I can be a good defender. I think being able to stretch the floor and be able to hit shots while I'm out there, that's the biggest thing for me. And being able to create for my teammates while the shot isn't there.
"I think I can get to the basket really well. I know I didn't really show it and was more focused on my 3 last year, but for me to be the best player I can be, I've got to do both and do it consistently. That's the one thing I've really worked on is getting to the rim and also with my shot, shooting off the dribble."
Bottom Line: Franklin feels a bit forgotten with the arrival of the three freshman guards, but it won't be a surprise to see him as a rotation stalwart to begin the season. His year of experience in the system coupled with his ability of defend should serve him well, but he'll need to knock down perimeter shots with more consistently to hang onto a significant role for the long term. Given how strong of a shooter he was at Cathedral in his final high school season, it will be surprising if he doesn't take a leap forward with shooting percentages.
Quotable: "I think it's just 100 percent confidence with me. I know last year I got off to a slow start shooting it. I'm just looking to be more consistent. I've just been getting a lot of shots up, making a lot of shots over the quarantine and over the span of workouts that we've had. That's been a real effort on my part just being able to hit shots and do it consistently." – Franklin at Indiana's media day.
Previously: Jordan Geronimo, Khristian Lander, Anthony Leal, Trey Galloway
Filed to: 2020-2021 season preview, Armaan Franklin