2020-2021 Player Profile: Anthony Leal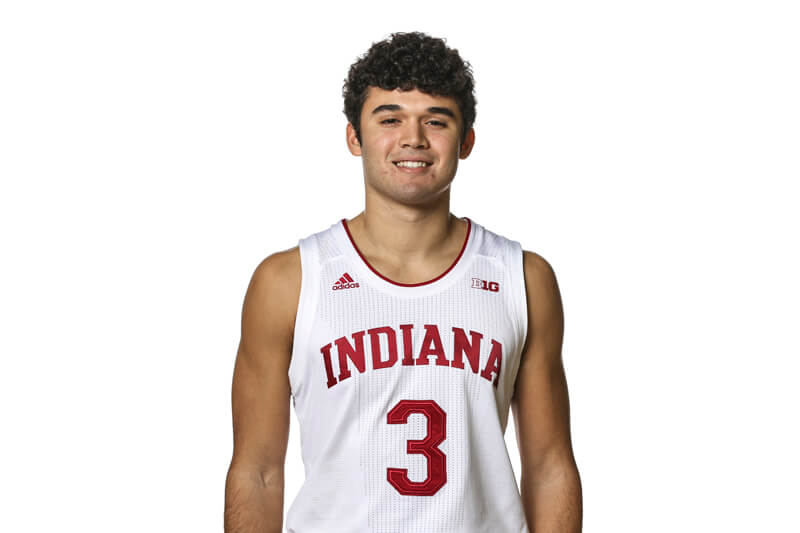 With the start of college basketball season scheduled for late November, we've transitioned from our look at other Big Ten programs to our player-by-player previews of the 2020-21 Indiana roster. Today, our player profiles continue with a look at freshman Anthony Leal.
Indiana's successful run of recruiting the state's Mr. Basketball continued in the 2020 recruiting cycle with Bloomington South guard Anthony Leal.
The 6-foot-5 Leal, who chose the Hoosiers over Stanford, is the third straight Mr. Basketball to sign with Indiana under Archie Miller following Romeo Langford in 2018 and Trayce Jackson-Davis in 2019. It is the first time in program history that the Hoosiers have inked three straight Mr. Basketballs from Indiana.
As a senior at Bloomington South, Leal averaged 18.2 points and led the Panthers to a 26-0 record before the season ended abruptly due to the COVID-19 pandemic. It was a disappointing end to a storied high school career for Leal, who finished as Bloomington South's all-time leading scorer.
"My initial reaction was just kind of shock," Leal told Inside the Hall back in the spring after South's tournament run was cut short. "I didn't know how to react at first. But as it started to sink in, I realized that it was actually over and my high school career had ended. Obviously, it was hard for me and I didn't take it very well at first. But I've just been trying to see the bright side and trying to see the good in everything that we were able to accomplish this season … going undefeated and having the success that we were able to have. I know it's something that I'm going to look back at and be really proud of."
The next chapter of Leal's basketball career will officially tip off in late November, but his role seems far less than certain than some of his classmates like Khristian Lander.
Billed primarily as a shooter early on in his high school career, Leal developed into a solid defender with an adequate midrange game as his career progressed. According to Jordan Basye, a coach for Indiana Elite and a basketball trainer that worked regularly with Leal in high school, competitiveness is a trait that helped set Leal apart from his peers.
"He's always been a winner, he's always won," Basye told Inside the Hall in June. "That's one thing with him, he's extremely competitive. He's a good shooter, he can score at all three levels, but the one thing that sets him apart is how competitive he is."
That competitiveness could ultimately determine just how much of a role Leal is able to carve out for himself in what is shaping up to be a crowded Hoosier backcourt. For the first time under Miller, Indiana has options and depth in the backcourt that appear to be plentiful.
Indiana returns a pair of starters in Rob Phinisee and Al Durham Jr., who are both expected to again play significant roles in Miller's fourth season. In addition, Leal will be battling with sophomore Armaan Franklin and freshman Trey Galloway for minutes in the rotation. Franklin, with a year of experience and the ability to function as a combo guard, and Galloway, with his ability to defend and attack off the dribble, could both enter the season with an advantage over Leal.
Where Leal may be able to gain a leg up, however, is with his shooting prowess.
It's no secret that Indiana has been a poor shooting team from the perimeter over Miller's first three seasons. Last season, Indiana's 32.6 percentage mark from distance ranked just 206th nationally. As a senior at South, Leal made 37 percent of his 3s. Last season as a freshman in Bloomington, Franklin struggled to make perimeter shots (26.6 percent) and a wrist injury for Galloway made him a subpar option from distance.
Basye told Inside the Hall over the summer that a major key for Leal will be his ability to get his shot off quickly.
"Being able to get his shot off quick. Being able to get it off against Big Ten competition," Basye said. "Being able to be ready to shoot before you get the ball. Just being able to get set down and be able to catch and shoot. I think that's one thing that's going to be able to separate him coming in that I think he does as well as anybody."
While Leal's on-court impact as a freshman may ebb and flow, he certainly fits the description of a high character individual who should be in college for four years and help Miller with his objective to get old and stay old.
Bottom Line: A crowded backcourt rotation coupled with a shortened schedule with few, if any, games against low major competition to gain experience could limit Leal's impact as a freshman. Long term, he projects as an important rotation player that should be able to add a much needed shooting perimeter. This season, however, it could be an uphill battle for the Bloomington South product to carve out a consistent role given the pieces already ahead of him in the rotation.
Quotable: "Just being around the guys and being able to make myself uncomfortable and see just how good and how much better I'm able to get. I think what excites me the most is just getting there and having a chance to compete." – Leal on what excites him most about beginning his college career.
Previously: Jordan Geronimo, Khristian Lander
Filed to: 2020-2021 season preview, Anthony Leal