2020-2021 Player Profile: Jordan Geronimo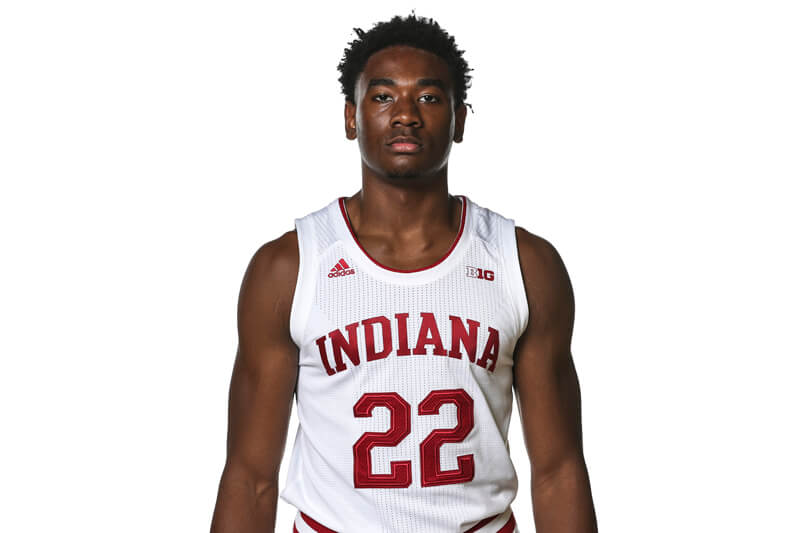 With the start of college basketball season scheduled for late November, we've transitioned from our look at other Big Ten programs to our player-by-player previews of the 2020-21 Indiana roster. Today, our player profiles begin with a look at freshman Jordan Geronimo.
The least known commodity of Indiana's four freshman, Jordan Geronimo arrived in Bloomington over the summer with little fanfare. His three fellow freshman, who hail from Indiana, are players the fanbase was already familiar from their prep careers in the state.
Geronimo, who is originally from Newark, NJ and played at St. Paul's School in Concord, NH, wasn't well known on the national recruiting radar before the summer of 2019.
But after starring for Mass Rivals on the adidas Gauntlet circuit in his final summer of grassroots basketball, Geronimo's national profile rose and resulted in a flurry of offers from high major schools. Scouts and coaches were enamored with his athleticism, size and wingspan, which is an impressive 7-foot-4. In June, former Rivals.com analyst Corey Evans, who now works for the Oklahoma City Thunder, compared Geronimo to former IU forward OG Anunoby on Podcast on the Brink.
The No. 96 player nationally in the 247Composite for the class of 2020, Geronimo visited Indiana last fall and committed to the Hoosiers just a few days later. At the time, his recruiting interest seemed to be on the rise and list of suitors growing.
But that all stopped quickly after a fall weekend in which Geronimo fell in love with IU's campus and its basketball program.
"It was all really fun and energetic," Geronimo told Inside the Hall in September of 2019. "I just really trusted them to get me where I need to be. The community was very lively when I was there, and they had so much energy. The cherry on top that really sold me was how the rich basketball history Indiana had was able to project into the community."
After his commitment to the Hoosiers, Geronimo went on to win Gatorade player of the year in New Hampshire. He averaged 18 points, nine rebounds, two steals, two assists and two blocks for St. Paul's as a senior.
The 6-foot-6 forward arrived in Bloomington over the summer and quickly went to work with Clif Marshall on improving his strength and conditioning. By the end of July, the changes were apparent.
Freshman 15!! Shoutout @ClifMarshall for getting me right !???? pic.twitter.com/e5tShIzToE

— Jordan Geronimo (@JordanGeronimo2) July 29, 2020
Described by several of his teammates as an athletic "freak" at Indiana's media day earlier this month, Geronimo and the IU coaches now face the challenge of turning potential into production.
Max Gordon, who coached Geronimo at St. Paul's, told Inside the Hall in early September that his former player has always held himself to a high standard.
"Jordan always responds," Gordon explained. "I feel like I've said that so many times that he almost seems like he's too good to be true, but that's him. He wants to be coached, he wants to be held accountable."
Indiana's frontcourt rotation was already full of talent and experience before Geronimo's arrival, so any role he earns as a freshman will certainly be earned. The Hoosiers welcome back four players in Trayce Jackson-Davis, Jerome Hunter, Joey Brunk and Race Thompson who all played significant roles on last season's 20-win team.
His best chance to carve out a role as a freshman may be similar to how Indiana deployed Anunoby and Juwan Morgan back in the 2015-16 campaign. Both Anunoby and Morgan were backups to begin their careers in Bloomington who offered production in the form of energy and defense off the bench.
"What's going to get him on the court, as you develop your offensive skillset and continue to learn, is that he can cover," Vin Pastore, who coached Geronimo with Mass Rivals, told Inside the Hall earlier this fall. "He's going to defend. He's going to create havoc on defense, which is going to allow him to be on the court, which is going to allow him to get the minutes he needs to continue to grow as a complete player."
Bottom line: Indiana's frontline depth is strong enough that it will allow Archie Miller to ease Geronimo into the rotation in his debut season. Given that the Hoosiers are expected to play one of the nation's most ambitious non-conference schedules, the developmental minutes for Geronimo to gain experience are unlikely to be plentiful. Still, he's built perfectly for Miller's packline defense and as he acclimates himself to the speed and physicality of the college game, he could have the most long-term potential of any of the freshman on the roster.
Quotable: "He's got all the intangibles that are required to be a good defender in the Big Ten right now. You can put Jordan on a point guard (and) he can switch to four positions. That's size, speed, (he) plays bigger than he is. (He) moves like a small guard, exceptional length. All that allows him to do those things." – Pastore on Geronimo's defensive versatility.
Filed to: 2020-2021 season preview, Jordan Geronimo