'You guys are going to love him': How Jordan Geronimo went from unknown recruit to Indiana commit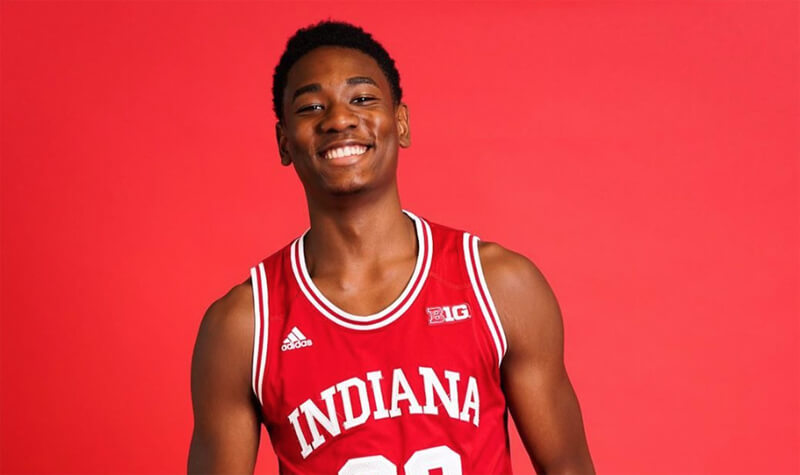 Andrew Gale had the gameplan to stop Jordan Geronimo.
Gale, the head coach at New Hampton School, studied the film of Geronimo, knew his tendencies within the St. Paul's School offense and made it a priority to stop him.
It was obvious to Gale that Geronimo was the best player on St. Paul's.
Getting him into foul trouble was a priority, and when that wasn't possible, Gale instructed his New Hampton team to pack the paint against Geronimo, to face guard him the entire game and to help off other St. Paul's players to better defend against the skilled wing.
"We didn't want Jordan Geronimo to beat us, so we tried to make it as hard as possible for him," Gale said.
The plan went into action on the afternoon of Wednesday, February 12th, 2020, as New Hampton traveled to St. Paul's for the teams' only meeting of the season.
The plan lasted just seconds.
"Well, the first play of the game, he jumped and his eyes were at the rim," Gale recalled. "I knew of him… just watching the film and seeing it on film, seeing him doing some freak, athletic things. I think it's one thing to see it on film, but then the first play of the game he's staring down at the rim.
"It kind of sinks in a little bit more when you see it in person."
New Hampton won the game by eight points, but Geronimo stole the show.
He finished with 23 points, seven rebounds, four blocks, four steals and two assists. He made a trio of 3-pointers. He didn't miss a free throw.
"He's a freak," Gale said. "He is one of the most athletic human beings I've ever seen in person."
This was Geronimo at the height of his high school hype. A player who was clearly the best on his prep school team, already committed to Indiana, with all eyes in the gym constantly fixed on him.
How we got to this point is a story of opportunity and perseverance, and how Jordan Geronimo captured his moment in time.
"In a split second, that kid can change a whole game," Max Gordon, Geronimo's coach at St. Paul's, said. "That's just fun to watch."
*****
Geronimo's AAU coach at Mass Rivals, Vin Pastore, can succinctly explain the sudden rise in Geronimo's recruitment.
He simply needed a chance to play before anything else could fall into place.
"One year ago, nobody knew who he was. He was once playing on a local grassroots team in New Jersey," Pastore said. "The first time he ever played with an elite team was when he came to the Mass Rivals. He needed a chance to get on the court."
Geronimo was the breakout star of last summer's live evaluation period.
A strong close to his junior season at St. Paul's (during which he averaged 14 points and eight rebounds per game) gave way to a scoring explosion on the AAU circuit.
During the Adidas Summer Championships in July 2019, Geronimo scored with ease.
It led to him receiving a text from an unsaved number. It was Archie Miller offering him a scholarship.
"It's just crazy coming from nothing and turning into something," Geronimo told Inside the Hall last September. "It just tells people that if you just put your head down and do what you're supposed to do and put the work in, and when you look up, I promise you something good is going to happen."
This speaks to what Pastore long believed about Geronimo's development.
"Jordan has a lot of natural ability, including his god-given athleticism and his ability to shoot the basketball and his ability to block shots, intangibles, his ability to defend," Pastore said. "Everybody has their day in elite basketball of becoming a man, and I think Jordan's biggest thing was (getting) comfortable becoming the man and realizing how good he was."
Becoming a man for Geronimo meant playing through double teams, ball denials and being the focal point of the scouting report, all first-time events he experienced over the last 12 months.
"He had to fail before he could succeed," Pastore said. "This has been a great year for him because everything was new."
Everything that came with Geronimo's meteoric rise on the AAU circuit was supposed to follow him back to Concord, New Hampshire, and to the 2,000-acre campus of St. Paul's.
Gordon was expecting as much.
Even before Geronimo blew up on the AAU circuit, St. Paul's had daily open gyms to accommodate the Atlantic-10, Colonial Athletic Association, Ivy League and Patriot League coaches who came to see him play.
But with the high majors now involved, Gordon anticipated a 'wild fall,' complete with the likes of Archie Miller and Buzz Williams visiting campus.
But well before the start of the season and without so much as releasing a top 10 list of schools, Geronimo committed to Indiana.
Dream over for Gordon.
"My selfish desires to have some high-level coaches in the gym immediately went away because I was excited for Jordan to have found his spot and be done with it," Gordon said.
Gordon now anticipated a relaxed fall, one focused on building team chemistry in a calm environment (Geronimo was the only St. Paul's senior set to continue his basketball career).
College coaches in the gym were few and far between, but the phone calls were not.
"When I thought that things were really going to be different was when, just the amount of interviews and the length of interviews and the podcasts, knowing that for every one of those I'm doing, Jordan is doing two or three or four or five, and his mom is doing one or two," Gordon said.
"I played Division III college basketball. I grew up as a huge basketball fan. Obviously huge respect for Indiana. But I didn't know until then, okay they want a new piece on this guy every couple of weeks before he steps foot on campus. I knew I would be talking to more people about him than I ever had."
Perhaps more than his coach, Geronimo knew what he was in for by committing to Indiana.
His recruiting visit to Bloomington took place one year ago, and he remembers the basketball-themed carpets and chandeliers inside the Graduate Hotel on Kirkwood Avenue, and the old basketball bleachers that adorned the hotel's walls as decorations.
"I heard Indiana was a basketball school and a basketball state, but I didn't really know that until I got on the Indiana campus," Geronimo said. "A basketball community is going to compel me to what I need to be."
*****
The next step for Geronimo was coping with the attention and expectation.
His box scores would be scrutinized, his stats discussed in online forums. Gordon wanted to get ahead of this, and had a preseason talk with Geronimo to address the new reality for his star player.
"We had a conversation about the expectations and I said, 'Jordan, all I care about is that you have your foot on the gas at all times and you're always asking what does the team need from me?'" Gordon said.
More often than not, St. Paul's needed Geronimo to shoot and score.
"I knew he needed to be in a certain range for us to be competitive. He couldn't be taking 10 shots, 12 shots, and have us be competitive," Gordon said. "But I always tried to emphasize getting the ball to the right guys in the right spots."
Growing pains came with this, but Geronimo was taught to put mistakes in the past and focus on the future.
These psychological barriers that often plague freshmen at high-major college programs were confronted well before Geronimo enrolled at IU.
"He was able to play very efficiently while scoring a lot, while not committing too many fouls, while playing a ton of minutes and while not turning the ball over too much," Gordon said. "You could just see those moments in previous years where he might have gotten a little sped up and turned it over or forced a bad shot."
Geronimo's senior season statistics spoke to this.
He averaged 18 points, nine rebounds, two assists, two blocks and two steals per game, earning Gatorade New Hampshire Boys Basketball Player of the Year honors despite St. Paul's 8-14 record.
"He was fully in control of the game… he knew when to jab-step, drive, dunk. He knew when to stop it short for a pull-up. He knew when to fire a deep 3, and then doing everything he does on the defensive side of the ball and the rebounds, made a huge impact," Gordon explained.
Geronimo's on-court performances, and the off-court recognition he received for them, came from a work ethic Gordon had to curtail.
In-season days for the St. Paul's team usually meant two-hour sessions, with time divided between film study, on-court practice and weight room work. Each night after dinner, Geronimo would return and turn on the shooting machine for more work.
By mid-February, signs of fatigue began to show.
Geronimo missed easy shots and got down on himself.
Gordon used the moment to remind Geronimo to take care of his body outside of practice, which meant a reevaluation of his eating habits, hydration and sleep schedule.
It even meant taking a night off from his return trip to the gym.
"It was a case of him holding himself to a high standard and needing to think about the bigger picture a little bit," Gordon said. "Jordan always responds. I feel like I've said that so many times that he almost seems like he's too good to be true, but that's him. He wants to be coached, he wants to be held accountable."
Pastore was an observer for most of Geronimo's senior season. He noted the growth Geronimo underwent as a player, but was also keenly aware of what will get Geronimo early playing time at Indiana, and how those skills were maintained through a time of change.
"What's going to get him on the court, as you develop your offensive skillset and continue to learn, is that he can cover," Pastore said. "He's going to defend. He's going to create havoc on defense, which is going to allow him to be on the court, which is going to allow him to get the minutes he needs to continue to grow as a complete player."
And what were Geronimo's thoughts on his senior season?
"I realized I needed to be more aggressive and more assertive with the ball in my hands. We were 8-14, which isn't bad for St. Paul's… we could've done a lot better," he told Inside the Hall in March. "Once I started to get that confidence (dribbling the ball) and see the results, I was able to get to the basket and make plays."
And what did Gale, who was an assistant or head coach at New Hampton for all four of Geronimo's seasons at St. Paul's, make of Geronimo's growth over that period?
"Everybody knocks him for his shooting, I think he has made tremendous progress in that area," Gale said. "He's not just a freak anymore athletically, but I think he's got a lot more stuff to his game and is a lot better than people think he is."
*****
For all the quantitative leaps Geronimo took this past season, some of the biggest turning points came in his mental understanding of the game.
He and Gordon didn't dwell on hypotheticals, such as how opponents would guard him or how to react in those situations. Instead, they adapted on the fly, tackling in-game scenarios as they arrived.
"Teams that were being more difficult, he would go back (and decide) 'Okay, I'm going to dribble, head-fake, really attack the glass hard, don't force anything on drives, get myself open for 3s,'" Gordon said. "Teams that were being less physical, who weren't as good on the help side, he knew how to take advantage of that by getting to the rim."
While double teams often arrived to defend Geronimo, they weren't a constant. Rather, it was the identity of an entire opposing defense that was set up around Geronimo.
"He knew when to look for his teammates, but he also knew that even if he had extra pressure, he was still going to need to take 15, 20 shots a game for us," Gordon said. "That's an incredible amount of pressure to shoulder, and he did it as a student of the game and by playing the right way."
Geronimo's mental fortitude extended to his studies. He had a 3.98 GPA and served as the head of St. Paul's Student Cultural Alliance, things that factored into Geronimo earning his 'Player of the Year' honor.
Gordon said the award was validation not only for Geronimo, but also for himself as a third-year head coach still building the St. Paul's program, which operates differently from most NEPSAC (New England Preparatory School Athletic Council) schools since no post-grads or 5th-year seniors attend St. Paul's.
"Even when he had Division I offers, he was up late nights studying, even when it wasn't about the grades anymore," Gordon said. "That's just the type of kid he is… it really puts a cherry on top of Jordan's career here because he's just such a great story."
For Geronimo, the award came as he followed his normal routine.
"I've worked so hard to a point where it's become a norm for me," Geronimo said. "It kind of went over my head that I'm getting better and I deserve these things… but I'm super happy I won the award. I'm just blessed, truly."
*****
Gordon and Pastore don't want to let Geronimo go.
An almost apologetic tone exists when they list the things they miss most about him.
Two kinds of answers are expressed.
One is the basketball version, the one related to Xs and Os, defensive schemes and offensive skills.
For Gordon, it came behind the scenes, with Geronimo's ability to establish team culture.
"Everybody always says your best players need to be your best leaders, and when you have a guy like Jordan who is your best player but is also such a hard worker and such a humble guy who wants to be the best teammate he can be… no one else can make excuses if that guy doing everything right," Gordon said.
For Pastore, it was the versatility Geronimo brought to Mass Rivals, specifically his ability to knock down the 3 while being an elite defender.
"If you can cover, you have a real good chance at winning," Pastore said. "He helped me win in a big way."
The other answer comes from emotion, the kind generated from being around Geronimo and watching him play.
"Just in one moment with a spectacular block or dunk, he can wake everybody up in the gym," Gordon recalled. "That one dunk, and he's running down the court screaming, and the whole pace of the game changes. For us in Concord, New Hampshire, that might happen with a couple hundred people in the stands, if we're lucky. So 17,000 (in Assembly Hall) I think is going to be a lot of fun."
"I'm not even over-exaggerating this, he's an incredible young man," Pastore said. "He's a humble young guy, I'm going to miss being around him because he's just great people.
"You guys are going to love him. Everything about him. My loss. Your gain."
Filed to: Jordan Geronimo