What will Jordan Geronimo bring to Indiana? His coaches explain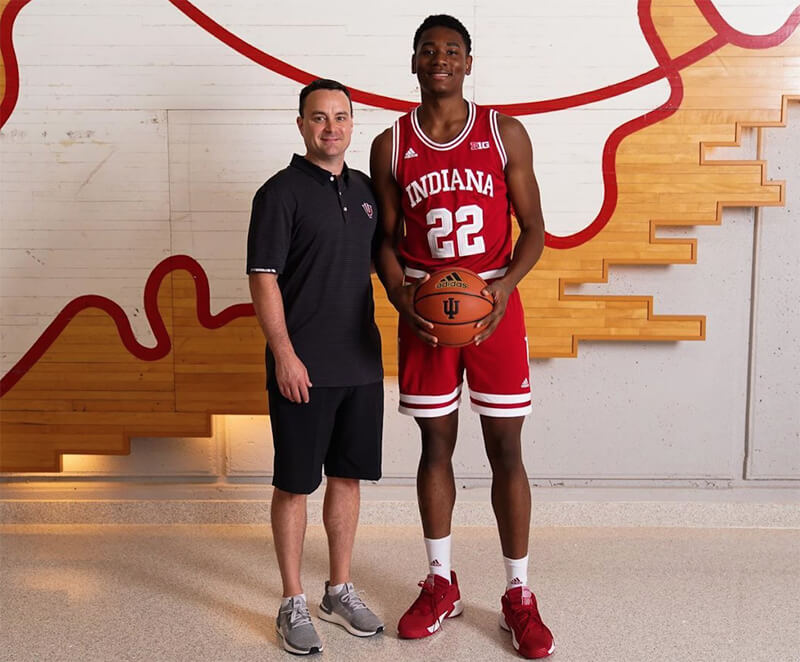 Max Gordon's Monday night was supposed to be centered around fantasy football.
The boys basketball coach at St. Paul's School in New Hampshire settled into place about 30 minutes before his fantasy draft, ready to pick his roster for a successful season, when Instagram, text and Twitter messages came to him in a flurry.
St Paul's School class of 2020 forward Jordan Geronimo had just committed to Indiana, joining Bloomington South guard Anthony Leal and Culver Academies guard Trey Galloway in next year's recruiting class for Archie Miller.
As such, Gordon found himself a bit preoccupied while making his selection.
"It was a crazy, crazy hour," Gordon said. "It (the draft) went alright. I wasn't as focused as I would have liked to have been, but I think with good reason I was focused on much more important things."
The commitment of Geronimo, a 6-foot-6 forward who plays AAU ball for Mass Rivals and is rated a 4-star recruit by Rivals, wasn't shocking to Gordon. He was aware that Geronimo's first official visit, which came over the weekend in Bloomington, went well.
Geronimo and his parents loved the town, took the time to converse about their next step and by Monday morning seemed "ready to roll" with the decision.
It's a choice that will bring an athletic player to the Hoosiers, a player Gordon describes as someone who can play positions 2-4 and guard multiple spots on the court.
"You immediately notice those obvious characteristics of 'hey, this kid is long,' and 'hey, this kid can really jump,'" Gordon said. "The more you watch him the more you see how good he really is. He's got a very natural shooting stroke."
Despite being more than 900 miles away from Assembly Hall, there's a common thread between Geronimo and the Indiana program. His coach with Mass Rivals is Vin Pastore, who also coached former Hoosier and NBA first-round draft pick Noah Vonleh during Vonleh's AAU career.
While the two players aren't exactly carbon-copies in terms of stature or on-court presence, Pastore praised Geronimo's athleticism (he has a 7-foot wingspan) as the defining characteristic of his game to date.
"He looks so much like many of the kids who were selected in this last NBA Draft. He's long, athletic and he has a great stroke from behind the arc," Pastore said. "He's not only athletic up and down, but he's athletic laterally. He's an elite defender, he can cover at least four positions on the basketball court."
With St. Paul's Gordon has taken note of Geronimo's help-side defense and impeccable timing, which helped Geronimo become a strong presence around the basket.
"I know our high school team doesn't play in the Big Ten, but he has averaged 3 blocks a game for the last two years, which over 45 or 50 games, that's a pretty impressive statistic," Gordon said.
To that effect, Pastore said most of Geronimo's on-court time has been spent under the basket due to his size and wingspan. Only recently has the recruit made the long-term switch to the wing.
The transition came in part last season with St. Paul's. Gordon said Geronimo was slotted at the 3 or 4 spot for the Pelicans, but that position was always housed around the perimeter.
His time playing on the outside increased this summer on the adidas Gauntlet circuit with Mass Rivals. As he started taking over more games with his scoring, the recruiting attention followed.
"He can play the wing and be a ball mover, but he's learning how to be really aggressive from the wing," Gordon said. "How to shoot when he's open, how to attack the hoop."
Geronimo's on-court progression seems natural. Pastore views him as a positionless basketball player with the ability to be effective both inside battling for rebounds or outside contesting and shooting perimeter shots.
"When you can cover multiple positions in college basketball, you're going to find your way on the floor," Pastore said. "I think that's going to happen for him."
Those looking for Geronimo's calling cards on the court can focus on two things, his defensive versatility and reliable 3-point shooting, according to Pastore.
Geronimo figures to get plenty of work on his longer jump shots throughout his senior season as well. He's already shot 3-pointers at a nearly 40 percent rate for St. Paul's, and Gordon said the school gym just got a new college-length 3-point line put down on the court.
"That's a great combination for a 6-6 wing," Pastore said. "He needs to become better off the bounce. Making plays off the dribble is going to be his next phase of development."
In theory, the next stage for Geronimo should come with time, and more importantly repetitions, at his new home on the wing.
Pastore sees it pretty simply. Geronimo's defense will earn him playing time, and that will in turn give him more chances to develop an offensive skill set which is currently heavy on making jump shots and light on creating plays for others.
It's part of the college-level keys Gordon is trying to help Geronimo with. Being able to maneuver past defenders with as few dribbles as possible, along with solidifying his mid-range shots, should round out an offensive skill set complimentary to his stifling defense.
His final high school season will also offer a taste of the expectation and pressure he can expect when he becomes a Hoosier.
"He's a big name now," Gordon said. "Last year he wasn't as big of a name. The other team's number one defender this season is always going to guard him, they're always going to be keyed in on him. So he's not always going to get some of those open 3s he's gotten in the past."
Filed to: Jordan Geronimo