2020-2021 Player Profile: Khristian Lander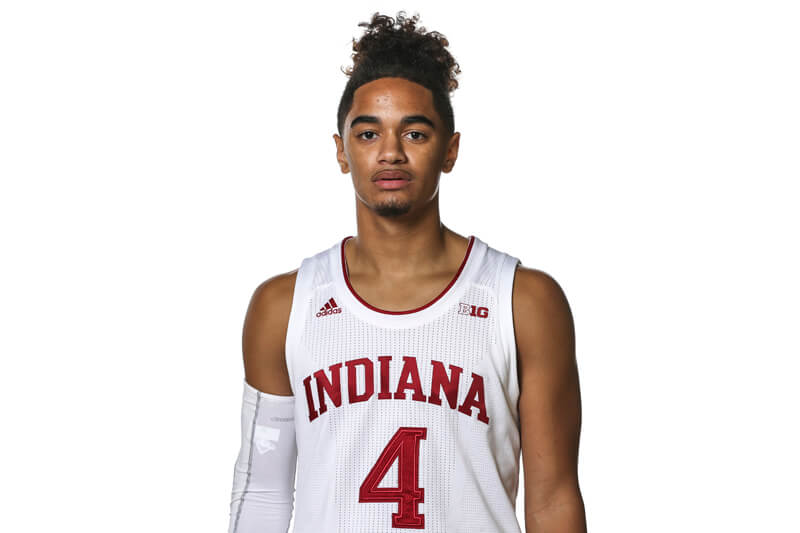 With the start of college basketball season scheduled for late November, we've transitioned from our look at other Big Ten programs to our player-by-player previews of the 2020-21 Indiana roster. Today, our player profiles continue with a look at freshman Khristian Lander.
There will be lofty expectations for heralded point guard Khristian Lander as he enters his freshman season with the Hoosiers.
The Evansville, Indiana native broke onto the national recruiting scene early on in his high school career. He landed offers from Indiana, Illinois, Purdue, Iowa, Ohio State and Kansas all before his sophomore season at Evansville Reitz High School. As a junior, Lander averaged 21 points while earning second team all-state honors. In his first three years, he scored 1,314 points.
In late February, Lander committed to the Hoosiers over a list of finalists that included Michigan, Louisville and Memphis, marking another huge recruiting win for Archie Miller in the state of Indiana. At the time, he was ranked as the No. 1 point guard in the 2021 class.
In an interview with Inside the Hall a few days following his commitment, Lander made it clear that he wanted to suit up in the cream and crimson before 2021. His desire to come early was fueled by a couple of reasons. Lander was already familiar with two members of Indiana's 2020 class, Anthony Leal and Trey Galloway, who he played with on Indiana Elite. And Indiana's breakout freshman from the 2019-20 season also enticed Lander.
"I feel like if I can get ahold of Trayce, we can dominate the Big Ten," Lander told Inside the Hall after his commitment in February. "I've been working pick-and-rolls since I was about in seventh grade. I'm just starting to get like the pro-style pick-and-roll now."
In order to reclass, Lander had to finish his required high school classes as a junior. As COVID-19 shut down schools in the spring, Lander finished his credits online. In mid-May, Lander made it official that he would be joining the 2020 class, adding an instant impact player to the newcomers.
When Lander started workouts with Indiana this summer, he became one of only four Indiana players in the last decade to still be 17 years old after arriving on campus. The other three, Noah Vonleh, Thomas Bryant and OG Anunoby, turned out pretty well.
"The thing I think about him is as a basketball player, he's so natural," Miller said in July. "As he gets experience, he's going to keep getting better and better. He's another guy that's very coachable. I love that he's very competitive, too. He's a young guy, 17 now, but he's very competitive."
Lander brings what last year's Indiana team often lacked: playmaking ability. There were multiple occasions last season where the Hoosiers would fall into lengthy scoring droughts, unable to muster a cohesive offensive flow. It led to games like the Rutgers loss, where Indiana only scored 50 points, or the first contest against Penn State, where the Hoosiers put up a measly 49.
Some of it was due to the inability to create shots for others. Indiana only averaged 12.9 assists per game, ranking them 189th in the nation. IU's top assist man, sophomore Rob Phinisee, averaged 3.4 assists per game and dealt with injuries throughout the season. Their other primary ball handlers, junior Al Durham and senior Devonte Green, combined for just 4.6 assists per contest.
The addition of Lander to the lineup can help alleviate those struggles. The southpaw boasts springy athleticism and a lightning quick first step. His speed allows him to gain separation off of the dribble and create opportunities for others. If he's put in a pick and roll situation, he can dive to the basket, dish it to a big man, or kick it out to a shooter on the perimeter. Indiana can morph into a more potent, versatile offense with Lander on the floor.
"He's a really explosive guard," Jackson-Davis said of Lander on media day. "High IQ, especially for how young he is."
Versatility has been one of the words of the preseason for Miller. Last season, Miller often went with a two-guard lineup, playing Justin Smith, a nonfactor on the perimeter, at the three spot. Now, with Phinisee, Durham, Lander and a cast of other guards like sophomores Armaan Franklin and Jerome Hunter, along with Leal and Galloway, Indiana is a more guard-oriented squad than last season.
Miller has talked about a three-guard lineup, even one that could include three primary ball handlers in Lander, Phinisee and Durham. It would be an interesting dynamic in the backcourt, but one that would allow for more flexibility, floor spacing and room for Jackson-Davis and senior Joey Brunk to maneuver in the paint.
While the premature arrival of Lander begs plenty of excitement, there is also some uncertainty. Lander's high school coach was skeptical about his decision to come early, citing that Lander still had more to learn at the high school level and accolades to collect, namely Indiana Mr. Basketball.
Lander also isn't quite apt to compete physically with gritty Big Ten point guards like Illinois' Ayo Dosunmu or Ohio State's CJ Walker. Lander finished his high school career standing 6-feet 2-inches and weighing 165 pounds. Compare that to Dosumnu's mature 6-foot 5-inch, 185 frame, or Walker's 6-foot 1-inch, 195 pound stature.
"As a young player he's going to have to learn how to play through mistakes and not get down on himself," Miller said. "This is hard for the first time. Real hard for the first time. He can't let any of that doubt creep into his head. It's going to be okay. He's allowed to make mistakes. He's going to have to learn there's going to be different guys out there that are pretty good and are bigger, stronger, older."
Preparing Lander for the physicality of Big Ten play is where Indiana's strength and conditioning coach Clif Marshall comes in. In July, Lander posted a photo with Marshall on Twitter with the caption: "Let's work." Marshall, who works with players on their dietary needs, also took Lander, Leal and Galloway grocery shopping.
Another factor that could make Lander's freshman year more challenging is the unusual schedule. Usually, inexperienced players can get accustomed to the college game against early season tune-ups like NJIT or Troy. This season, one of Lander's first matchups could be with Providence's Jared Bynum, who averaged better than 11 points as a freshman. A few games later, he could see North Carolina's Caleb Love, who was the No. 2 point guard in the nation in the 2020 class.
Bottom Line: Even as Indiana's most highly-touted freshman, there will most likely be some freshman struggles for Lander as he will be forced to quickly adapt to the college game. But Lander's playmaking ability gives him the potential to be an instant impact player for the Hoosiers. It's still unknown whether Lander will start, but it's expected that he'll earn a large chunk of minutes early on. His quickness, coupled with a guard driven lineup, could provide Indiana with a winning formula.
Quotable: "I feel good adding Khristian to the mix just in watching him with upperclassmen in his five to six workouts. If I walked in, I wouldn't know he's a 17-year old kid. He's got that going for him. Now, it's just maturity and learning things are okay when you don't make a shot or make a mistake. He's going to be that young guy you coach hard. You're going to push him but you want to push him through mistakes as well and get his confidence up." – Miller on Lander in July.
Previously: Jordan Geronimo
Filed to: 2020-2021 season preview, Khristian Lander