Five takeaways from Indiana's media day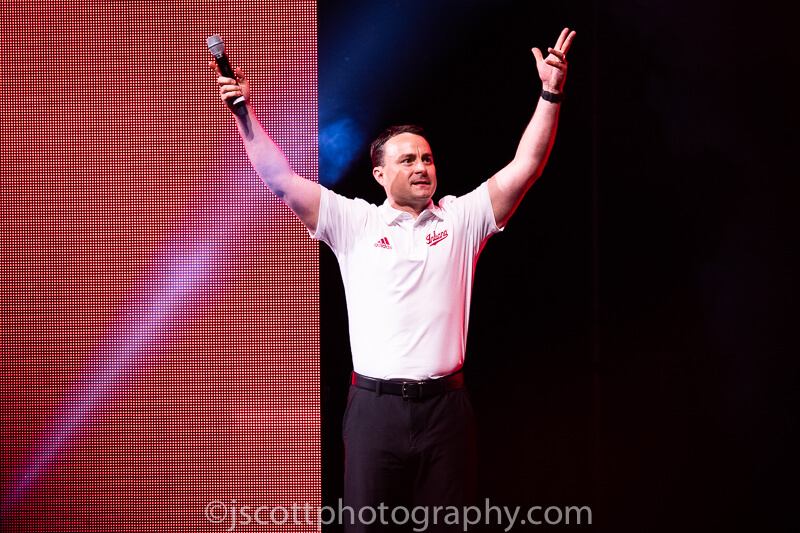 More than one year ago, Archie Miller sat at the podium inside Assembly Hall's media room with his arms crossed. It was media day for the 2019-20 season, and Miller took a swig of water as he settled in. He then opened his remarks, stating that it had been a long, but good offseason.
"It's been uneventful, so to speak, which is very rare as you start the fall term," Miller said. "Where you don't have a lot of hiccups, ups and downs, learning each other."
Fast forward one year, and the start to Miller's fourth year at the helm has been anything but uneventful. Miller, who fielded questions from his office on a Zoom call for this year's media day, doesn't know what the Hoosiers Big Ten schedule looks like. Or even their full non-conference slate. And official preseason practice begins tomorrow.
"Every school, every coach, every team is dealing with some circumstance of uncertainty," Miller said on Tuesday. "We are not the only ones, so how we handle it is going to be the challenge. Can we do it better than other people do it?"
The only concrete date that Miller knows is Indiana's Maui Invitational (in Asheville) opener against Providence on Nov. 30 at 2:30 p.m. Then, there's the Big Ten-ACC challenge that hasn't been finalized. Miller said that the Crossroads Classic, where Indiana would take on Butler, is still on as of right now. Much of the scheduling is complicated by classes, television deals and health protocols.
Miller said that the players' classes are 75 to 80 percent virtual, meaning they won't have to be out and about on campus frequently.
"The standard that we have to hold each other to if we want to represent Indiana on the court and be a part of college basketball, we have to do things off of the court more importantly than on the floor," Miller said.
Among the uncertainty, is the future of fans in Assembly Hall. Last season, the Hoosiers were 15-4 at home, in comparison to a 2-8 mark on the road. This year, they may not be able to feed off of the infectious energy.
"At the end of the day, basketball is still basketball," senior Al Durham said. "We have to go out there and play our hardest and do the same thing that we do with the crowds or without the crowds."
On the other hand, junior Rob Phinisee was stumped.
"I'm not really sure," Phinisee said. "We haven't done it yet. So, that's all I can really say."
However it'll look, or sound, or how Indiana's schedule pans out, is still all to be determined. But right now, the start date for the season is looming.
"The one thing that gives you a little confidence is that we have practice tomorrow," Miller said.
Here are five takeaways from media day:
Trayce Jackson-Davis, frontcourt meeting increased expectations: Back in the spring, when the NBA was still paused, Trayce Jackson-Davis had a conversation with Archie Miller about his future with Indiana.
Jackson-Davis had just come off of a freshman campaign in which he was named to the All-Big Ten freshman team and finished second in the freshman of the year voting. He led the Hoosiers in points (13.5 per game), rebounds (8.4 per game) and blocks (1.8 per game.)
At the time, Jackson-Davis was projected as a second-round pick. In that conversation, Miller told Jackson-Davis that if he was going to return, he needed to play at an All-American level.
"I think he's putting really high expectations on me and it's giving me a lot of confidence to produce," Jackson-Davis said.
He ended up deciding to stay for his sophomore year and is now garnering national attention. He was selected as a third team preseason All-American by Blue Ribbon earlier this week. He's been identified as a candidate for player of the year by Andy Katz.
As a freshman, there were a couple of glaring weaknesses in Jackson-Davis' game: his inability to finish with his right hand and his jumpshot. He's worked on the strength of his right hand, not only in drills, but also in game situations. He's been improving a right jump hook and a midrange jumper, that he can utilize in pick and rolls with freshman point guard Khristian Lander.
Jackson-Davis is just one piece of an experienced Hoosier frontcourt along with senior Joey Brunk and redshirt junior Race Thompson. The trio all gelled with each other last season and will anchor this year's Indiana squad.
"I think that we play really well together at the four and the five because we're very versatile players, we're like interchangeable, we can both play at the five's and four's." Jackson-Davis said of Thompson.
Jerome Hunter emerges as breakout player
Last season, Miller just hoped that Jerome Hunter would make it through the year without getting injured. The prior season, Hunter suffered an undisclosed leg injury that sidelined him for the entire year. After recovering, Hunter had to regain his comfort on the court.
It was in Indiana's home win against Ohio State in January that Miller saw a turning point for Hunter. In 19 minutes, Hunter scored five points, knocking down five of his six free throws and adding one rebound. The numbers weren't out of the ordinary, but Miller saw toughness.
Now, Hunter is entering his redshirt sophomore season and chasing the potential that has been synonymous with his name since he arrived on campus. In high school, Hunter was a four-star recruit that flew in for dunks and rained in 3-pointers.
"He's back to being the old Jerome," Miller said.
Miller knows this from seeing the smile on Hunter's face. Hunter messes up, says "yessir, coach," and moves on. Miller saw Hunter's love for the game come back.
In the offseason, Hunter has been sharpening his ball handling skills, conditioning and shooting. He may also be tasked with playing the four position if Miller elects to go with smaller lineups, placing more emphasis on his rebounding.
"I feel like this year, with him (Miller) being more confident in me," Hunter said. "Knowing what I can do on the court and knowing from the practices and the summer and everything that he told me to work on this year. Exploring different things I can do on the court, not just shooting."
Highlighting smaller, faster lineups with more versatility
The idea of a smaller lineup was originally brought up by Miller in late July. It's a byproduct of the pieces that have moved in and out of the program since the end of last season.
Justin Smith, who played at the three position for a majority of last year, transferred to Arkansas. Smith wasn't a traditional small forward who possessed a reliable jumpshot, allowing opponents to leave him on the perimeter and creating more traffic in the lane. It would often lead to a stagnant offense that would get bogged down in the paint.
Now, Smith is gone and a wave of versatile freshmen have joined the team. It's led by the former five-star recruit Lander, who reclassified to join the Hoosiers this fall.
"He's a really explosive guard," Jackson-Davis said of Lander. "High IQ, especially for how young he is."
Then, there are guards Anthony Leal, Trey Galloway and wing Jordan Geronimo. While they play on the perimeter, they all possess length to guard multiple positions. Leal is listed at 6-feet and 5-inches, Galloway at 6-feet and 4-inches and Geronimo at 6-feet 6-inches.
The length provides Miller with the ability to mix and match lineups, including one with three primary ball handlers in Lander, Phinisee and Durham. It will allow the Hoosiers to play a faster brand of basketball with a spaced floor to give Jackson-Davis more room to maneuver on the interior. Miller said the offense will be filled with more ball screens, which Lander and Jackson-Davis will benefit from, and create more opportunities off of the bounce.
"I'm really comfortable with it," Phinisee said. "We're incorporating that in our offense. We're just getting better everyday. We're just really learning."
Miller focusing on less turnovers and more assists
With the new-look lineup, filled with ball handlers and speed, Miller said that the most important statistic for the Hoosiers is turnovers.
Last season, Indiana averaged 12.6 turnovers per game. Miller wants that number down to 10 or 11. There were only six games last year in which the Hoosiers turned the ball over in the single digits. In consecutive losses to Penn State, Ohio State and Purdue, they combined for 42 total giveaways.
"We have to be one of the lowest turnover teams that we've ever had here," Miller said.
With the turnovers decreasing, and more guards on the floor, Miller also wants an uptick in assists, which has been a reoccurring issue for Miller's teams. Last year, Indiana ranked 189th in the country in assists and posted 12 games where they recorded more turnovers than assists. In Miller's tenure at Indiana, no single player has averaged over 3.5 assists per game. Phinisee dished out 3.4 last season last season and Devonte Green notched three per game in the 2018-19 season.
This year, the addition of Lander will help, although there will be a learning curve for the freshman. Phinisee said he wants to be more aggressive driving to the lane. Al Durham can also facilitate, but it could be sharing the rock by committee again.
Experience will be key in a weird season
Indiana is returning seven of its top nine scorers from last season. They bring back 120 total games started, too. Brunk is a fifth year senior, Phinisee has been through two years of the Big Ten gauntlet, albeit through injuries, Thompson showed his capabilities late in the season and Durham was a captain last year, .
"It was just a big learning step for me in how I can become a leader on and off the court and how I can gel with guys," Durham said. "So, I feel like it's just a stepping stone for what I can do in my senior year."
Although no one in the roster has competed in the NCAA tournament, they've competed in a plethora of difficult environments across the Big Ten. The experience, in a season where there's still no schedule, may be what gives the Hoosiers an advantage.
"How you handle what's thrown at you really comes down to your leadership," Miller said. "I think we have some guys here that have been a part of a lot of big games, and a lot of college basketball experience. To have that as your disposal as a coach, you hope that that plays a role in a positive way."
Filed to: Archie Miller, Jerome Hunter, Khristian Lander, Trayce Jackson-Davis